ON SALE! Paradise is Here: Building Community Around Things That Matter
October 19th 2020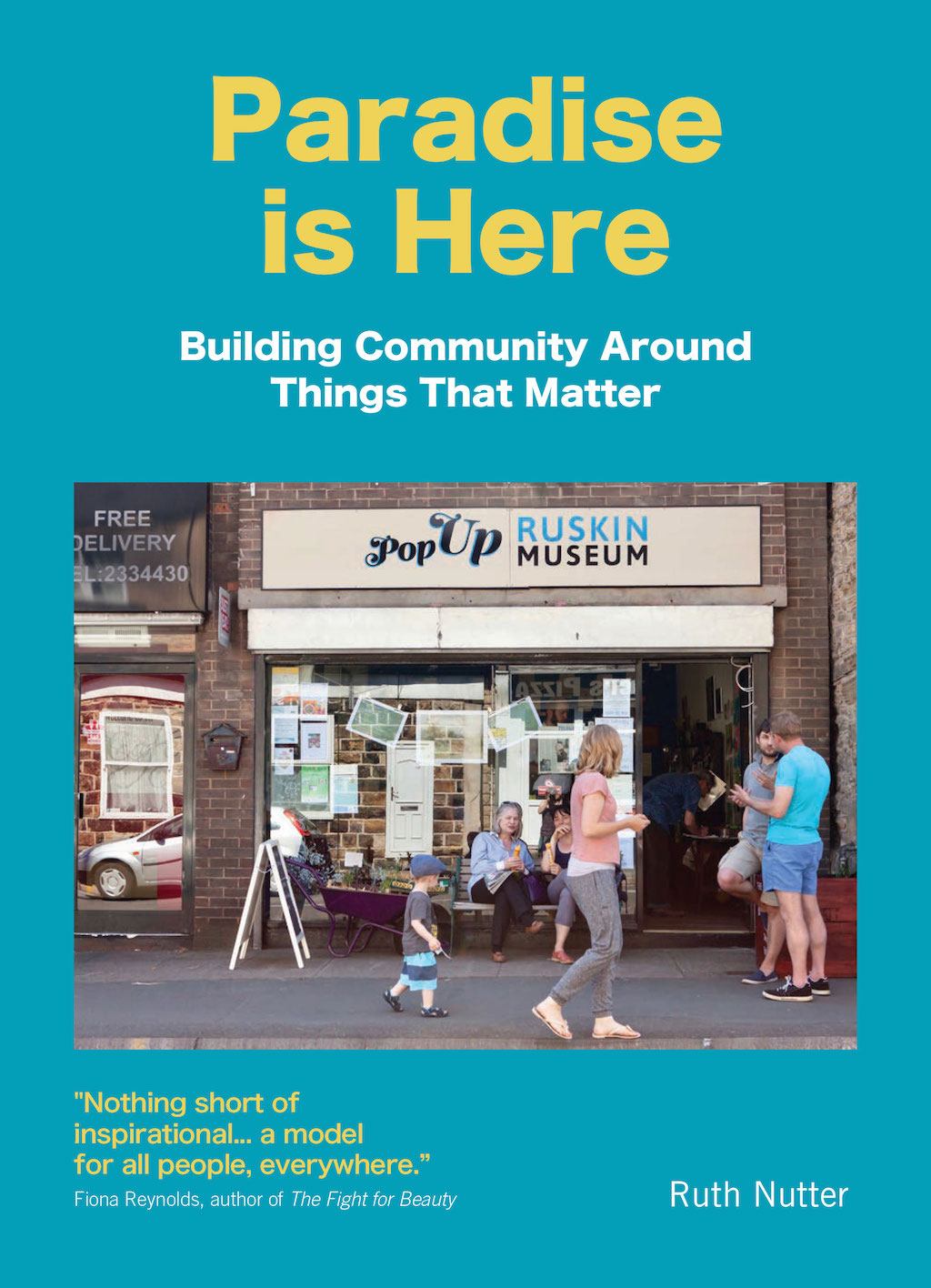 On November 5th the Guild publishes its new, Ruskin-influenced guide to connecting and enriching communities, entitled 
Paradise is Here: Building Community Around Things That Matter
The book offers guidance on awakening creativity, collaborating in and across communities, and deepening connections with nature and locale, which will particularly support the growth in community activity seen during the pandemic. 
The practical guide will share a wealth of knowledge and experience from the Guild
'
s six-year activity programme, 
Ruskin in Sheffield
'
. Led by Ruth Nutter, this began in 2014 and culminated during Ruskin
'
s bicentenary in 2019, and was developed with more than 100 community and cultural partners, practitioners and volunteers. It delivered 76, mostly free events around the streets, parks, rivers, community centres, libraries, markets and galleries of a community Ruskin himself sought to contribute to, which engaged
more than 25,000 people.
Now Ms. Nutter, who is the Guild
'
s Creative Producer, has documented and drawn from this transformative project to produce a handbook for others. Offering insights into 
case studies
 like 
Walkley
'
s 
Pop-Up Ruskin Museum
'
 and 
Ruskin
'
s Use & Beauty Parlour
'
 in Sheffield city centre, she also shares Ruskin-inspired 
guiding principles
 like adopting a 
polymath
'
 approach, striving to preserve heritage and pioneering for the future. These are supported by 
practical advice 
on where, when and how to make things happen: from developing ideas and connections, to planning and delivering hands-on activities.
Ruth Nutter said: "
 

We live in a culture where paradise is a place we escape to - what if we focused on making it where we live? This book tells a story rooted in collaboration and co-creation, re-awakening creativity, widening access to nature and deepening connections with where people live. It

'

s about opening eyes to the present value and relevance of past ideas, sparking and strengthening commitment to making better local futures, and laying the foundations for change.
"I believe it will equip 
cultural practitioners, community workers and anyone wanting to 
connect and engage local people with the insights and tools to embark on their own community-building process, around things that matter where they are
." 
Hilary Jennings, Co-Director of the 
Happy Museum project
, 
called the book, "An essential read for all those seeking to release the potential of civic heritage, in service of the social and environmental justice issues of today.
Combining case studies, principles and practical guidance, it draws on Ruskin and his historic context to tell a vivid and inspiring story of community connection and creativity..."
Endorsements for 
Paradise is Here:
"This book is nothing short of inspirational. 
John Ruskin wanted to do something remarkable for Sheffield, and the work described here is remarkable too: and steeped in his values.
This wonderfully engaging range of activities energised curiosity, life and joy among communities across Sheffield, and provide a model for all people, everywhere.
To coin the most common response from participants:
this is just lovely!" - 
Fiona Reynolds, former Director General of the National Trust and author of 
The Fight for Beauty
"This is a wonderful record of an inspired and inspiring project. But it is above all a generous and practical how-to guide, in the spirit of John Ruskin. Anyone with the seed of an idea for change should use this book to help bring that idea to life in their own community." - 
Andrew Hill, author of 
Ruskinland: How John Ruskin Shapes Our World 
and 
Financial Times 
columnist
"Paradise is Here

 

is the story of restoration our world needs: extending our imagination, collective courage and knowledge we

'

re part of a larger whole… 
Hold its generous practice of building communities around things that matter tight." - 
Lucy Neal, author of 
Playing for Time:
Making Art as if the World Mattered
Ruth Nutter was producer of the Ruskin in Sheffield programme initiated by the Guild of St George from 2014 to 2019.
She is now a freelance Creative Producer. 
Ruth developed her socially engaged practice as a Creative Associate of Encounters, co-designing the transformation of empty shops as community engagement hubs, and running creative nature engagement workshops outdoors.
Her early career in theatre marketing and producing nurtured a clear understanding of the galvanising role of the arts in people
'
s lives, and her work is underpinned by a long-term commitment to social and environmental justice and sustainability.
In 2001, with Josette Bushell-Mingo OBE, Ruth co-founded Push, an award-winning company dedicated to promoting the work of black British artists and discussion about race in the arts during residencies at the Young Vic and Almeida.
She is a contributing author of 
Playing
for Time: Making Art as if the World Mattered
 by Lucy Neal, and has been a recipient of an Arts Council England bursary and a NESTA Fellowship award.