RUSKIN'S ENGLAND, FROM OXFORD TO THE LAKES. A Bicentenary Tour: MAY 2019
December 4th 2018
An invitation to join an unique 9-day tour of England in celebration of Ruskin's bicentenary, May 10-18 2019
---
Dear Ruskinians and Friends,
In celebration of Ruskin's 200th year, we would like to invite you to join us in order that, together, we might visit and experience the many sources of Ruskin's inspiration in England, the country of his birth. Jim Spates, Emeritus Professor of Sociology, Hobart and Smith Colleges NY, and Nicholas Friend, Co-Director of Inscape Fine Art Study Tours Ltd in London, both of whom are Companions of Ruskin's Guild of St George, will lead you on a Ruskin English Odyssey between 10-18 May 2019.  Our itinerary will focus on three areas of Ruskin's interest: the inspiration which English landscape and architecture had on his thought; the industrial cities which generated his concerns about the lives led by factory workers and the nineteenth century's thoughtless despoliation of the natural environment; and the beautiful places where he lived-the places which inspired his vision for The Guild of St George.
Yours truly,
Jim Spates, PhD, Professor Emeritus, Hobart and Smith Colleges, Companion of the Guild of St George
Nicholas Friend, MA (Oxon), MA (Cantab), FRSA, Director, Inscape Cultural Study Tours, London, Companion of the Guild of St George.
RUSKIN'S 200th
ENGLAND, May 10-18, 2019
The greatest thing a human soul ever does in this world is to see something…to see clearly is poetry, prophecy, and religion, all in one. John Ruskin, Modern Painters III (1856)
Please join us on a special tour celebrating the life, work and legacy of John Ruskin (1819-1900) while retracing his footsteps in Britain.
This itinerary has been especially designed to pay tribute to Ruskin, the intelligent traveler in England. We will begin in Oxford, site of his university experiences and early inspiration for his love of medieval architecture, and the city where he would later be appointed Oxford University's first Slade Professor of Fine Art. There, in the superb Ashmolean Museum are major collections of the art created by Ruskin's protégés, the Pre-Raphaelites, as well as dozens of his own exquisite drawings and watercolors. After seeing these, we shall travel next to the great Victorian city of Birmingham in the English Midlands, the site of Ruskin's brilliant lecture "Of Kings Treasuries," and home to one of the world's superlative Pre-Raphaelite painting collections. Near Birmingham is the Wyre Forest, location of the thriving farm known as Ruskin Land, given to Ruskin by the Mayor of Birmingham in 1871.
Next, travelling further north, we shall visit Lancaster University, primarily to see the riches of his manuscripts, letters, and drawings that are housed in perpetuity in the Ruskin Library. Still further north, in the glorious Lake District itself, we will tour Grasmere, home of one of Ruskin's greatest inspirations, the poet William Wordsworth, before going on to Ruskin's home itself, Brantwood, which overlooks the marvelous glacial lake known as Coniston Water.
Major events celebrating Ruskin's bicentenary will be held at Brantwood while we are there. We will be present for the dedication of the Van Akin Burd Library. Burd was, by general acclaim, the most important Ruskin scholar of the mid-late twentieth century. Jim Spates, who was Burd's close friend, will give a brief talk there about the significance of Burd's work in advancing Ruskin studies during a particularly low period and speak of that work's enduring importance. We shall also be at Brantwood for a unique bicentenary event, a traditional Japanese Tea Ceremony (if you have never attended one, it is one of the great experiences of life) arranged by Companion Shoji Sato.
Following our Brantwood visit, after crossing the Pennine Hills, we arrive in Sheffield, the city where Ruskin, in the suburb of Walkley, located his St. George's Museum (most of his original donations are there). In Sheffield, we will visit The Ruskin Gallery, its collection of Ruskiniana one of the most important in the world.
Next we travel to Manchester, where we will hear a lecture on one of Ruskin's greatest texts, "Traffic"—on the importance not only of reading but of reading the right things—delivered in 1864 in Bradford. The following day, we sample the grandeur of Manchester itself, much of its Victorian architecture inspired by Ruskin, and home to yet another major collection of Pre-Raphaelite art and a major collection of Ruskin's manuscripts and letters in the John Rylands Library.
Throughout our journey, we will be greeted by distinguished Ruskin curators and scholars, each of whom will delight in showing their treasures to fellow Ruskinians. Also throughout, we will stay in hotels which are, themselves, the essence of Englishness. We will read Ruskin's works in the loci that inspired them, eat and drink well and enjoy the pleasures, as Ruskin would wish, of each other's company.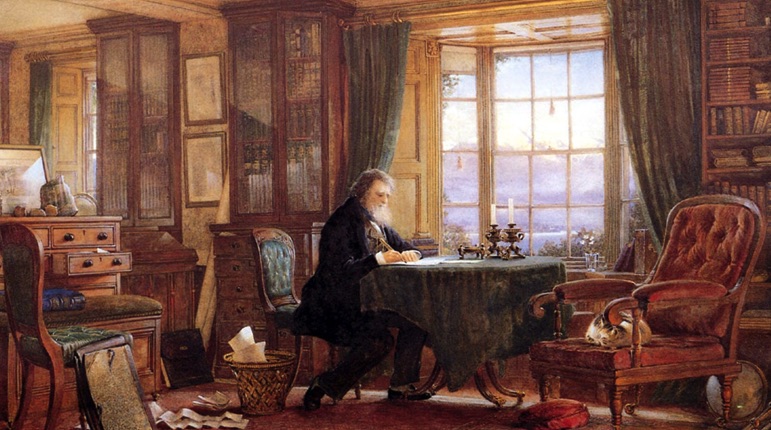 To download the full itinerary, please see here.
To download the Booking Form, please see here
To download the Inscape terms and conditions, please see here.