Robert Newell
How would you define yourself?
Artist and Lecturer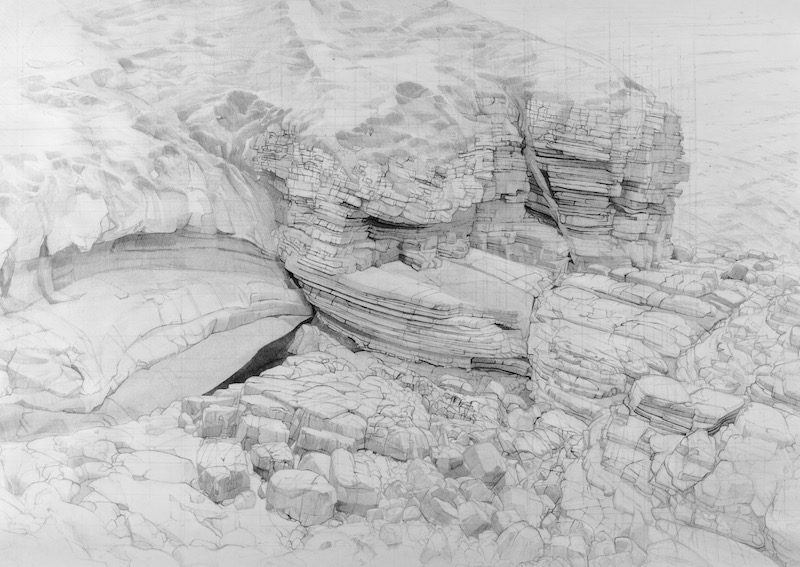 Please describe yourself and your areas of interest.
I studied Fine Art at Wimbledon School of Art and Goldsmiths College, and was awarded a University of Wales doctorate following practice based research into the current critical status of landscape in art practice and aesthetics. My work in painting and drawing has passed through certain distinct phases in relation to places, themes and formal concerns: the North Sea coast, destroyed urban environments, and now predominantly rocks and clouds in Wales and Cumbria. Drawings made entirely in situ, and paintings made in the studio, develop in dialogue with each other. The drawings are an immediate but extended response to the place, the paintings however give a further purpose to the drawings. In this way, the material process is bound up with the developing reciprocity of subjectivity and nature. In the paintings I aim to achieve a denser interpretation of the landscape, these in turn, send me back to continue working on the drawings. From 1993 to 2014 I was a senior lecturer at Swansea College of Art. Although I am primarily a practicing painter, I have certain art historical and philosophical interests, including of course, Ruskin; these have formed the content of lectures given in a range of educational and public contexts.
Why did you become a Companion of the Guild?
I joined the Guild in order to find a shared enthusiasm for Ruskin and the holistic constellation of interests and initiatives that preoccupied him. Ruskin's drawing practice and writing has been inspirational to me as an artist and lecturer. His drawings are sensitively innovative, probing, speculative, expressive and instructive, while his campaigning engagement with social, economic and environmental concerns continues to be highly relevant today, while his integration of mythic and arguably phenomenological thinking invites further analysis. The by turns poetically descriptive, analytical and then penetrating wit of Ruskin's rich prose continues to address his readers with a compelling directness.
Web link: www.robertnewellartist.co.uk