FREE DOWNLOADS OF SELECTED PUBLICATIONS
As an education charity, the Guild seeks to share knowledge and ideas as freely as possible. As well as our bookshop, where you can buy the full range of our booklets online, we are also able to make certain publications available for free, to download and read at your leisure.
---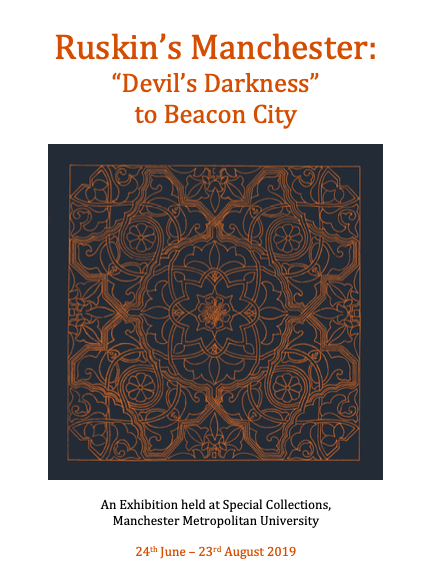 CATALOGUE OF THE 2019 RUSKIN'S MANCHESTER EXHIBITION
'Ruskin's Manchester' was guest-curated by Rachel Dickinson (Principal Lecturer, Interdisciplinary Studies / English at Manchester Metropolitan University and Master of the Guild of St George). The exhibition took place in Special Collections at Manchester Metropolitan University.
Specialist co-curators contributed to the exhibition: Anthony Burton (formerly Senior Fellow, Research Department, V&A) on Ruskin's Manchester lectures and Ruskinian art education, James Robertson (Senior Lecturer, Manchester School of Architecture) on Manchester's Gothic Revival architecture, Stephen Wildman (Emeritus Professor and former Director of the Ruskin Centre at Lancaster University) on Ruskin's busts and aspects of influence – and Steph Boydell (Curator, Special Collections).
This catalogue was produced as a commemorative piece after the exhibition 'Ruskin's Manchester: "Devil's Darkness" to Beacon City' closed. It reproduces information from the exhibition labels, and concludes with an overview of the festival of Ruskin in Manchester, in which this exhibition played a central part.
DOWNLOAD THE PDF HERE.