FREE DOWNLOADS OF SELECTED PUBLICATIONS
As an education charity, the Guild seeks to share knowledge and ideas as freely as possible. As well as our bookshop, where you can buy a wide range of our booklets online, we are also able to make certain publications available for free, to download and read at your leisure.
---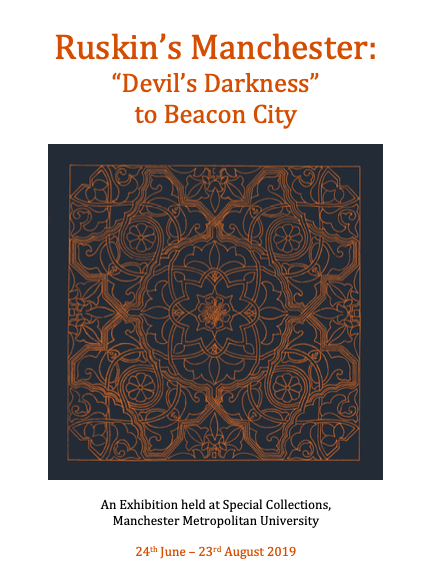 CATALOGUE OF THE 2019 RUSKIN'S MANCHESTER EXHIBITION
'Ruskin's Manchester' was guest-curated by Rachel Dickinson (Principal Lecturer, Interdisciplinary Studies / English at Manchester Metropolitan University and Master of the Guild of St George). The exhibition took place in Special Collections at Manchester Metropolitan University.
Specialist co-curators contributed to the exhibition: Anthony Burton (formerly Senior Fellow, Research Department, V&A) on Ruskin's Manchester lectures and Ruskinian art education, James Robertson (Senior Lecturer, Manchester School of Architecture) on Manchester's Gothic Revival architecture, Stephen Wildman (Emeritus Professor and former Director of the Ruskin Centre at Lancaster University) on Ruskin's busts and aspects of influence – and Steph Boydell (Curator, Special Collections).
This catalogue was produced as a commemorative piece after the exhibition 'Ruskin's Manchester: "Devil's Darkness" to Beacon City' closed. It reproduces information from the exhibition labels, and concludes with an overview of the festival of Ruskin in Manchester, in which this exhibition played a central part.
DOWNLOAD THE PDF HERE.
RUSKIN, THE PRE-RAPHAELITES AND THE OXFORD MUSEUM
By John Holmes
In 1855, Oxford University set about building its first science faculty. The Oxford Museum was to be an experiment in architecture, combining the beauty of medieval Gothic with modern industrial materials,and setting in stone a vision of the natural world revealed by science.
To design the museum, the Oxford scientists called on the advice of the leading Victorian art theorist John Ruskin, who brought in the Pre-Raphaelites, the most radical avant-garde artists of the day. This lecture tells the story of this unique collaboration between science and art, showing how Ruskin and the Pre-Raphaelites helped to create one of the most remarkable buildings of the nineteenth century, illustrated by the full portfolio of Ruskin's designs for the museum.
John Holmes is Professor of Victorian Literature and Culture at the University of Birmingham and an Honorary Associate of the Oxford University Museum. His books include Darwin's Bards (2009) and The Pre-Raphaelites and Science (2018), and the anthology Guests of Time: Poetry from the Oxford University Museum (2016).
RUSKIN & TOLSTOY
by Stuart Eagles
2nd edition (revised) of the 2010 Ruskin Lecture by Stuart Eagles. Presented to coincide with the Centenary of Tolstoy's death.
'TREASURING THINGS OF THE LEAST'
MARY HOPE GREG, JOHN RUSKIN AND WESTMILL
by Liz Mitchell
RUSKIN'S BOTANICAL BOOKS - Re-ordered and annotated editions of Baxter and Sowerby
By David Ingram
An account and analysis by Prof David Ingram of botanical books formerly owned by John Ruskin and purchased by the Guild in 2015.
"NECESSITOUS MEN ARE NOT FREE MEN" - BRIDGING RUSKIN'S THOUGHT AND THE NEW DEAL
by Gray Brechin
The 2014 Ruskin Lecture
'A NEW WORLD ON WHICH THE WORLD SHOULD TRAVEL': JOHN RUSKIN, 'THE NATURE OF GOTHIC' AND WILLIAM MORRIS
by Clive Wilmer
William Morris's birthday lecture, 2014