Ruskin Land is made up of a hundred acres of mostly oak woodland, two farmhouses, a sawmill and an orchard and wildflower meadow. Much of it is managed by our partners, the Wyre Community Land Trust. Together, we welcome many visitors, volunteers and other partners to share in the beauty, work and learning offered by this very special place.
---
Read more about the evolution of Ruskin Land since the 1870s, in this account from 2017 by Companion Neil Sinden.
Read NATURE NOTES, a beautiful illustrated monthly diary from a resident of Ruskin Land, Linda Iles, here.
RUSKIN IN WYRE
Between 2014 and 2019, the Guild established and core-funded two projects designed to re-animate his legacy in Sheffield and the Wyre Forest. Sheffield, the city to which he gave an art collection for the benefit of its working people (now cared for and displayed by Museums Sheffield) and the Wyre Forest, because friends of Ruskin gifted his Guild productive land there which is still in our care.
The Ruskin in Wyre project was designed to introduce new audiences to the heritage, value and current purpose of Ruskin Land, the 100 acres of oak forest, meadow and orchard in the Guild's care, to ensure it might continue to be, in Ruskin's words, 'beautiful, peaceful and fruitful.' It was funded by a grant from the National Lottery Heritage Fund and delivered by the Wyre Community Land Trust. This short film - below - reflects on the value of this work in the words of people involved.
---
---
Many groups and individuals visit Ruskin Land each year and it hosts local, regional and national collaborations which benefit from the resources of this area of outstanding natural beauty, and from the skills and expertise of the people who live and work on the land. The Guild is supporting work to regenerate the old orchards, hay meadows and oak woodland, and it helped to build an architecturally striking study centre on its land, The Ruskin Studio.
The land was given to Ruskin in the 1870s and has been managed by the Guild since then. The mission of Ruskin's Guild was, in his words, 'to take some small piece of English Land, beautiful, peaceful and fruitful', to provide opportunities for working people to cultivate land and reconnect with nature. Ruskin's ideas remain relevant today and it is our mission to reinterpret them in meaningful, creative and productive ways for a new generation.
The c HLF-supported Ruskin in Wyre project (2017-19) aimed to explore what happened at Ruskin Land and how Ruskin's ideas have been incorporated into the modern forest.
The project deepened the links between the community and the forest through a wide range of events and activities. Making, of all kind and varieties, was a key part of the project and it provided opportunities for people to work with our artist in residence using our oak to create beautiful things.
Studio in the Woods at Ruskin Land, summer 2018 & 2019
In the summers of 2018 and 2019, the oak woodland at Ruskin Land was the venue for the annual Studio in the Woods project, hosted by the Wyre Community Land Trust. Studio in the Woods is an ongoing education and research project established in 2005. It was founded and is convened by Piers Taylor (Invisible Studio) with Kate Darby (Kate Darby Architects), Meredith Bowles (Mole) and Gianni Botsford (Gianni Botsford Architects) as a vehicle to test ideas through making at 1:1. At Ruskin Land the challenge was to work only with waste wood, the timber that otherwise had no commercial value or purpose.
Each year the founders have been joined by a number of other practitioners and academics in leading workshops with students (architects, makers, artists, academics) over 3 or 4 days in summer time. For more information and films about this remarkable project, on Ruskin Land and elsewhere, see here.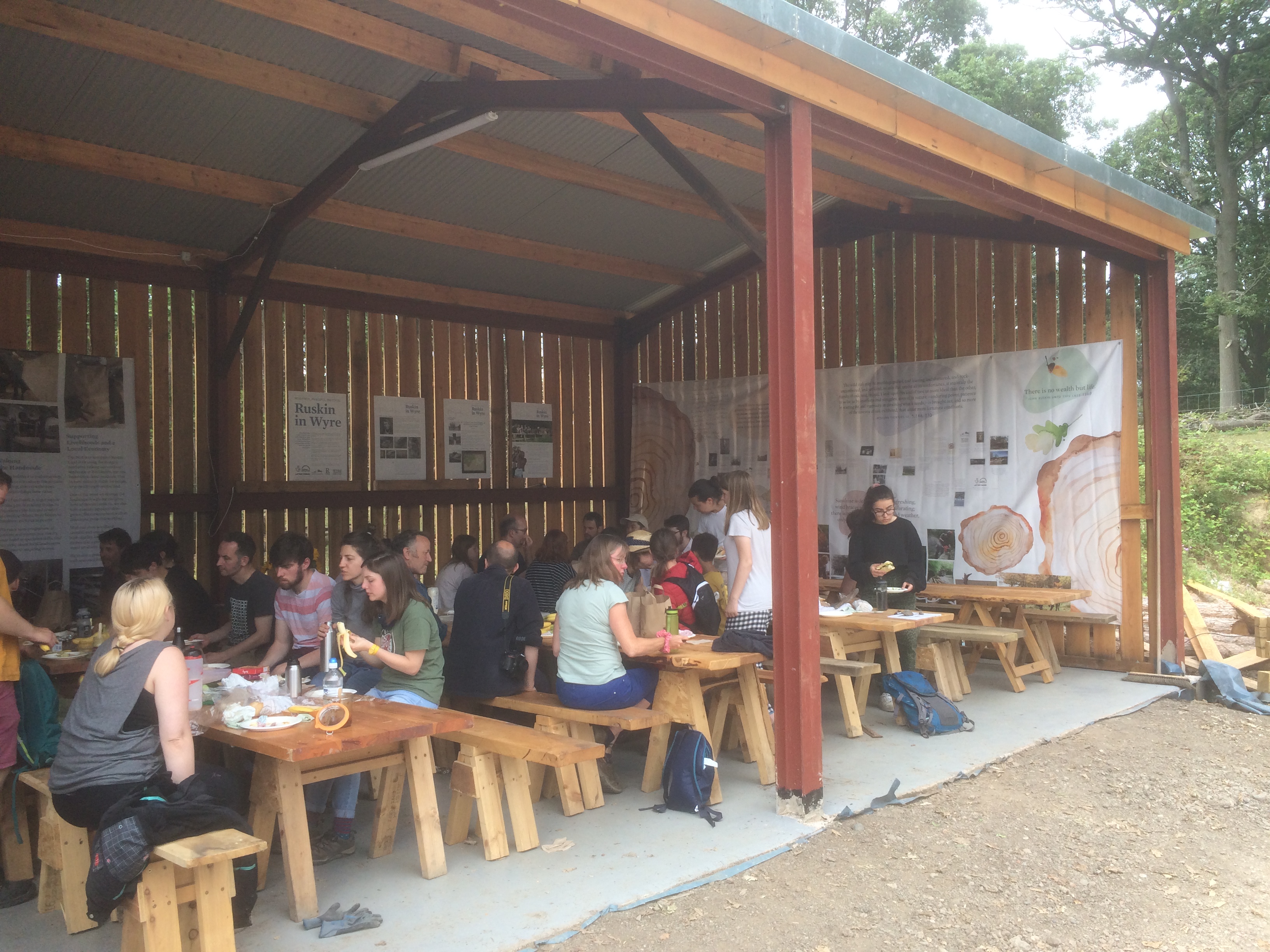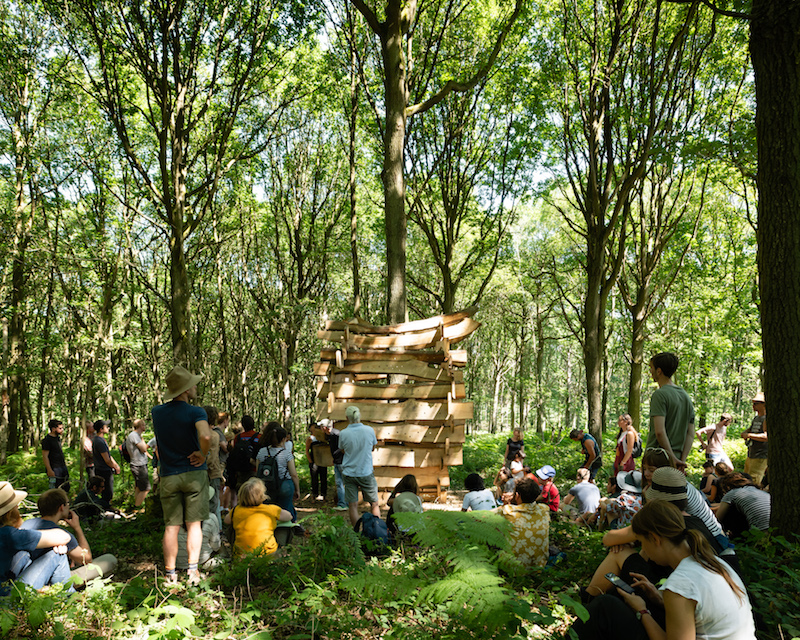 ---
The history of Ruskin in Wyre
"We will try to take some small piece of English ground, beautiful, peaceful and fruitful. We will have no steam-engines upon it, and no railroads; we will have no untended or unthought-of creatures on it; none wretched, but the sick; none idle, but the dead."
Ruskin's initial hopes for the land he was given in the Wyre Forest provide a sense of his utopian vision which remains inspirational to this day. It arose from his reaction to the ravages of the industrial revolution on the environment and humankind. But the forest at that time was itself an industrial landscape, supporting a wide range of economic activity including coppicing and making charcoal for iron smelting, bark stripping for the nearby tanneries, basket, besom and hurdle making.
It was George Baker, a Quaker businessman and local politician, who offered Ruskin some land in the Wyre Forest to make a practical reality of his ideas. Baker lived at Beaucastle, the imposing neo-gothic mansion on the edge of the forest just off the Bewdley to Cleobury road.
He originally gave 7 acres in 1871, later increasing his gift to 20 acres in 1877, the year that Ruskin paid his only visit to the area when he described the bequest as "in midst of a sweet space of English hill, dale and orchard, yet unhurt by the hand of man." He had plans drawn up for a museum at Ruskin Land which were never realised.
After the land was cleared of trees, William Graham, one of Ruskin's early followers, set about establishing a smallholding at what was then known as the St George's Guild Bewdley Estate. In 1880 he drew a plan for an orchard of 180 or so fruit trees, a mixture of varieties of plum, damson, apple, pear and cherry.
Graham worked there for 8 years, planting and tending the young orchard, raising pigs and growing various crops. Sadly, he left after falling out with Ruskin who he felt had failed to provide adequate support for his efforts. William Graham is buried, with his wife Eliza in St Leonard's Churchyard in Ribbesford.
Shortly after Ruskin's death in 1900, the Guild resolved to build a cottage at Ruskin Land. St George's Farmhouse was completed in 1908 and a few years later Frederick and Ada Watson moved in with their daughter Eva and sons Harry and Willy. The Watsons were members of the Liverpool Ruskin Society where they previously lived.
They followed in the footsteps of fellow members of the Society, Margaret and Thomas Harley, and Edith Hope Scott who had moved to the Wyre Forest a few years before. Together they formed the nucleus of a small Ruskinian community. The Watsons remained at St George's Farm for almost thirty years working the land and selling their produce at local markets.
After Frederick suffered a stroke, the Watsons returned to Liverpool in 1938. It wasn't until after the war that the Guild found new tenants for St George's Farm. In 1956 Jack and Nancy Bishop took over the farm and raised a family there until Jack moved into a local hospice in 2014 shortly before passing away.
They combined running the smallholding, rearing turkeys and cattle (having grubbed up the original orchard), with Jack working as a 'loom tuner' at Brintons, a carpet factory in Kidderminster. While they are fondly remembered by members of the local community, the Bishops had no particular attachment to Ruskin or the Guild of St George, who were content to ensure that Ruskin Land was being farmed.
In the last two decades, and in partnership with the Wyre Community Land Trust, the Guild has begun a long-term project to revitalise the management and care of Ruskin Land, to ensure that it will remain 'beautiful, peaceful and fruitful' for centuries to come.
1819    John Ruskin born in Denmark Hill, London
1862   Unto this Last - one of Ruskin's most influential books - is published
1871   Ruskin begins to write Fors Clavigera, acquires Brantwood by Coniston Water in the Lake District and is offered 7 acres of land in the Wyre Forest, increased to 20 acres six years later, by George Baker
1875   Ruskin establishes a museum at Walkley, a suburb of Sheffield
1878   William Graham begins work at Ruskin Land and John Ruskin visits Bewdley with George Baker whose house Beaucastle was completed in the same year
1880   An orchard is planted at Ruskin Land based on plan drawn up by Graham         
1883   Liverpool Ruskin Society is formed whose members included members of the Fowler, Harley, Wardle,  Watson and Quayle families, as well as Edith Hope-Scott
1885   Joseph Southall is commissioned to design a museum at Bewdley
1895   National Trust is formed by Octavia Hill, Robert Hunter and Canon Rawnsley, inspired by Ruskin
1900   Ruskin dies at Brantwood
1909   William Graham dies and is buried at St Leonard's, Ribbesford
1908   St George's Farm is built at Ruskin Land
1911   Frederick and Ada Watson move from Liverpool to St George's Farm with their children Harry, Willy and Eva
1914   Charles Clucas Quayle and his wife Mary Margaret move to Uncle's Farm, later renamed Uncllys Farm, with their children Cuthbert, Kathleen and Kendrick
1921   The book The Beloved by Edith Hope-Scott  about life at Ruskin Land is published
1925   Eliza Graham (nee Tart) William's wife dies and is buried alongside him at Ribbesford
1929    The Quayle family moves to Bowcastle Farm
1930   Guild of St George acquires 100 acres of woodland around Ruskin Land, along with the neighbouring smallholding Uncllys Farm
1938   The Watsons return to Liverpool and Clucas Quayle dies leaving his elder son Cuthbert to look after the Guild property, including Ruskin Land
1956   Jack and Nancy Bishop move into St George's Farm with their family removing the original orchard shortly after
1969   Cuthbert Quayle dies and Cedric Quayle, son of his younger brother Kendrick, starts to look after Guild property in the Wyre Forest
1978   Over 200 ha of the Wyre Forest, including Ruskin Land, becomes a National Nature Reserve
1989   The booklet Ruskin and Bewdley by Peter Wardle and Cedric Quayle is published
2007   Wyre Community Land Trust set up by John and Linda Iles based at Uncylls Farm
2009    Work begins on constructing the oak-framed Ruskin Studio by covering an old outbuilding at Uncllys Farm
2014   Mark Frost's The Lost Companions and John Ruskin's Guild of St George: a Revisionary History is published
2015   Lynne Roberts and Neil Sinden move into St George's Farm and with CLT staff and volunteers start to plant a new orchard there
2016   Wyre CLT's new Managing Director, Tim Selman, oversees its relocation to St George's Farm and the establishment of a woodyard at Ruskin Land
2017    Wyre CLT and Guild of St George secure a Heritage Lottery Grant to tell the story of Ruskin Land