Caroline Ikin
How would you define yourself?
Garden historian and writer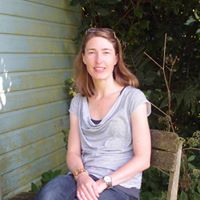 Please describe yourself and your areas of interest.
I am a writer specialising in garden history and Victorian art, architecture and gardens, and my PhD thesis examined Ruskin's approach to the designed landscape at Brantwood. My research has led me to think more about the impact of land use, considering Ruskin's example in agriculture as a model for sustainable land management, and reflecting on his practice of encouraging the individual to reap spiritual rewards from purposeful physical labour. I am interested in the early Companions of the Guild, particularly the support Ruskin garnered in the Lake District, and in Ruskin's approach to botany, gardens and gardening. I have previously worked for the Gardens Trust, the National Trust and in museums.
Why did you become a Companion of the Guild?
I believe the continuing presence of the Guild in the twenty-first century is to be celebrated as a tangible expression of Ruskin's ideology of social justice and sustainability in the rural economy, and evidence of the currency of Ruskin's thinking on education, craftsmanship and community.