Chris Baines
How would you define yourself?
Independent environmentalist, professional adviser industry and government, award-winning writer and broadcaster, campaigner for urban nature conservation, past trustee of the national lottery, chairman of the Wyre Forest Landscape Partnership, Sheffield born and raised.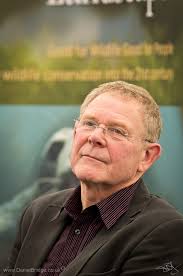 Please describe yourself and your areas of interest.
I have a lifetime's history as an environmental campaigner, particularly championing wildlife gardening and urban nature conservation. I have always worked across all sectors, with major consultancy in the house-building, water, minerals and energy industries. I now work mainly as a broker of partnerships between the voluntary, corporate and public sectors. I also continue to speak and chair conferences internationally, I write and broadcast and have a number of roles in the not-for-profit sector, including national vice president of the Royal Society of Wildlife Trusts and Hon President of the Thames Estuary Partnership.
Why did you become a Companion of the Guild?
I have a long association with Wyre Forest, grew up in Sheffield, and am particularly interested in Ruskin's championing of the need for urban communities to enjoy access to nature and the arts.