National Gallery Ruskin conference, Sept 2019
20th - 21st September 2019
Art for the Nation: John Ruskin, Art Education and Social Change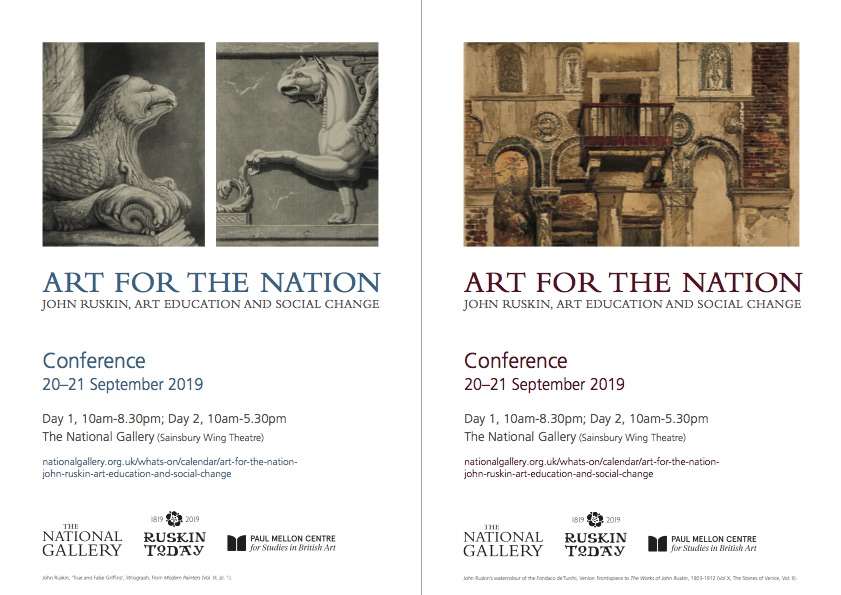 'Art for the Nation: John Ruskin, Art Education and Social Change' will explore Ruskin's interactions with, influence on, and legacy for the museum world and art education
The recent upsurge of interest in Ruskin has led to much fresh scholarship on his life, work, and legacy. The National Gallery's two-day conference will capitalise on this new research and expand on it by looking specifically at Ruskin's interactions with, influence on, and legacy for the museum world and art education, with talks structured around  four themes: 'Art Education and Museums'; 'British Art and Photography', 'Language, Writings and Sources' and 'Ruskin Today'.
The conference will look at the extent to which Ruskin was working alongside or outside the British art establishments as well as the contribution Ruskin made to the emerging discipline of art history, including canon formation, formal criticism and other genres such as exhibition guides. A further, crucial set of issues will address Ruskin's ongoing legacy, including the reception of his writing about artists and curating, and art in relation to social, environmental and economic questions.  We will ask what his ideas can teach future generations of museum goers, artists, curators and funding bodies.
The conference will begin with a keynote address by Professor Dinah Birch (University of Liverpool), followed by two days of papers covering the principal themes noted above.
As an additional attraction, during the lunch breaks, there will be visits to the National Gallery Research Centre to see Ruskin-related unique archival material and tours to see paintings in the collection that Ruskin commented on.
The conference is directed towards wide audiences from academics (established and emerging) and art professionals to the general public, especially those interested in Ruskin, Italian Renaissance art, British 19th-century art, art education, and the history of museums.
'Art for the Nation: John Ruskin, Art Education and Social Change' is organised by Dr Susanna Avery-Quash (National Gallery) in partnership with Janet Barnes, a former Director of the Guild of St. George; with support from the Paul Mellon Centre for Studies in British Art.
The conference forms part of a collaboration with The Ruskin Foundation, whose London Lecture 2019, in association with Sovereign Films, will be given by Professor Robert Hewison (Chair, 'Ruskin To-Day'), at the National Gallery on the Friday evening of the conference.
Download the timetable for the Friday here and Saturday here. More details and booking here.