The Big Draw - Ruskin Land & Bewdley
27th October 2018
Ruskin Land, Bewdley, DY12 2LS,
ALL WELCOME. This event is open to anyone who loves to draw, as well as those who think they can't! It's an opportunity to join a global community in celebration of the universal language of drawing. Bring nothing but a willingness to create, connect and celebrate.
Join us at Ruskin Land on Sunday 28th October and in Yoyogi Park, Tokyo for a crossover of traditional methods and materials between the UK and Japan. We will be operating a live video link between the Ruskin Studio in Bewdley and Yoyogi Park with our Big Draw partners in Japan.
---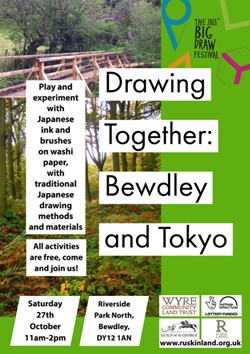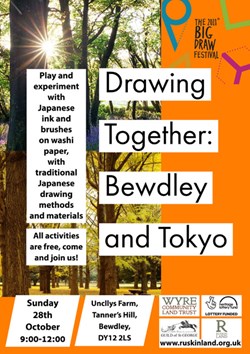 200 YEARS OF RUSKIN
This collaboration will also draw on inspiration from John Ruskin, in celebration of his forthcoming bicentenary and Ruskin in Japan events in 2019.
Led by local artists Hilary Baker in Bewdley & Divya Marie Kato in Tokyo
JAPAN BIG DRAW 2018: Divya Marie Kato in Tokyo Info & Register: https://www.divyamariekato.com/the-bi...
RUSKIN LAND, UK BIG DRAW 2018: Hilary Baker in Bewdley Info & Register: https://ruskinland.org.uk/events/draw... hjbarts@aol.com www.hilaryjbaker.com