The Big 'Green' Draw at Ruskin Land 2020
21st October 2020, 28th October 2020, 30th October 2020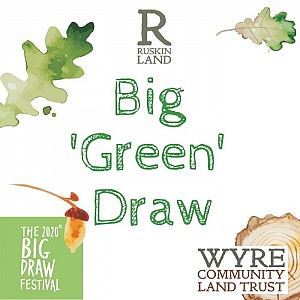 Join us in the beautiful surroundings of Ruskin Land, the Wyre Forest, to strengthen your relationship with the natural world through art. 
Immerse yourself in the forest environment and be inspired by all it has to offer to create your own individual pieces of artwork.  Upon arrival you will have the choice of a drawing or painting art pack, you can then lose yourself in the art of creating at one of our socially distanced stations..........no judging or critiques just see where nature leads you.  Art stations will include:
Close up - Look more closely at natural objects and record their beauty on paper.
Wildlife - Investigate the wildlife that visits St Georges Farm.
Landscape - Observe and record the surrounding landscape including the forest, orchard and meadow.
Other activities will include leaf rubbing and leaf printing.
We would like to create a scrapbook of the wildlife and landscape of Ruskin Land from its mini-beasts and birds to its trees and views.  Help us document the wonderful diversity of wildlife the Wyre Forest has to offer by adding one of your creations to the scrapbook. We will be offering morning and afternoon two-hour time slots. 

Booking is essential as places are limited. All Coronavirus precautions will be put in place, including appropriate sanitising and social distancing measures.

Art packs
Draw - Sketching paper, pencil, coloured pencils, drawing charcoal, colouring sheets, stickers.
Paint - Cartridge paper, choice of paint colours, pencil, colouring sheets, stickers.

Paint brushes, water and clip boards will also be available.
Click here for more info and to book
Tickets: Adult - £5, Child - £2.50
Suitable for ages: All
Organised by Wyre Community Land Trust
Family Friendly Facilities:

 

outside loo, bonfire and hot water bottles and barns.

 
No parking

 

please, only disabled parking parking near to edge of forest.
No dogs please.

Accessibility: Disabled parking. No steps anywhere, disabled loo at nearby small-holding (would need to go by car).