An appreciation of Ruskin curator Louise Pullen and her Museums Sheffield colleagues from Clive Wilmer
May 29th 2019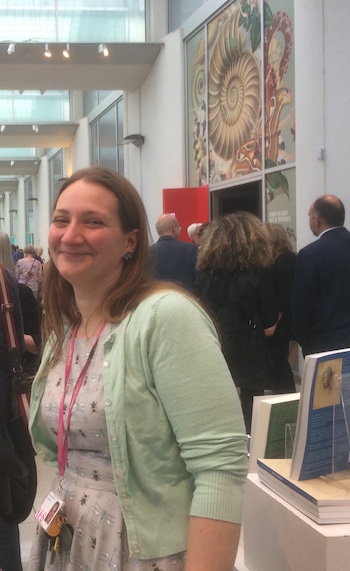 On the eve of the exhibition JOHN RUSKIN: ART & WONDER opening in Sheffield, on behalf of the Guild, Clive Wilmer pays tribute to its curator Louise Pullen and her colleagues.
The recent exhibition John Ruskin: The Power of Seeing represents an important moment in the history of the Guild of St George. The very large crowds that attended it and the enthusiastic critical response in the media were confirmation that the struggle to re-establish Ruskin's eminence has finally succeeded. From now on, anything Ruskin's followers say or do begins on the high ground.
The Guild is especially grateful to the exhibition Curator Louise Pullen for representing Ruskin with such aplomb on BBC Radio 4's Start the Week in January. This was one of many radio programmes that took inspiration from The Power of Seeing; I am sure everyone at Museums Sheffield shares our pride in the outstanding reviews the exhibition received, a just reflection of the quality of the thinking and care that went into its presentation. The aim of the exhibition was, by way of a metropolitan platform, to communicate the work that we, the Guild and Museums Sheffield, do day by day in the home of the Ruskin Collection. It is clear that, with 57,000 people attending the show we have well and truly succeeded.
For this the Guild is enormously grateful to Kim Streets and her team at Museums Sheffield – grateful for their commitment to the collection in their care. In addition to Kim, I'd like to single out Kirstie Hamilton, Alison Morton, Chris Harvey and Louise Pullen for their different roles in negotiating with Two Temple Place and their work in promoting it. They all played a part in shaping it, but the largest share of our thanks in that regard must go to Louise
Louise has curated the Ruskin Collection for the past fourteen years. Over that time, I have seen her grow – modest as she always is – into one of the world's most learned Ruskin scholars, but also someone with a natural capacity to communicate her knowledge and enthusiasm to the public. It was those qualities above all that made The Power of Seeing such a wonderful show – one that reached out inclusively to such a range of spectators. It is clear to me that the same qualities will make for a still more splendid exhibition in Sheffield. John Ruskin: Art and Wonder will emphasise those elements in Ruskin that have most commanded Louise's interest during her time in Sheffield. The subject is Ruskin's appreciation and understanding of the miracle of life, drawn to the attention of Sheffield's working people. She will be in her element.
Clive Wilmer, May 2019