Arjun Jain's Nepalese Trek
March 16th 2021
Everest Base Camp, an account of a trek in Nepal in 2017
---
As a contribution to the Guild's 2021 Festival of Walking, Companion Arjun Jain has kindly shared his recollections of a walk in Nepal in 2017.
From 21st November to 6th December in 2017, I was in Nepal, walking from and back to 'the most dangerous airport in the world' – having been, on the 28th, the highest I've ever, some 100 or so metres above 5365, Mt Everest's base camp.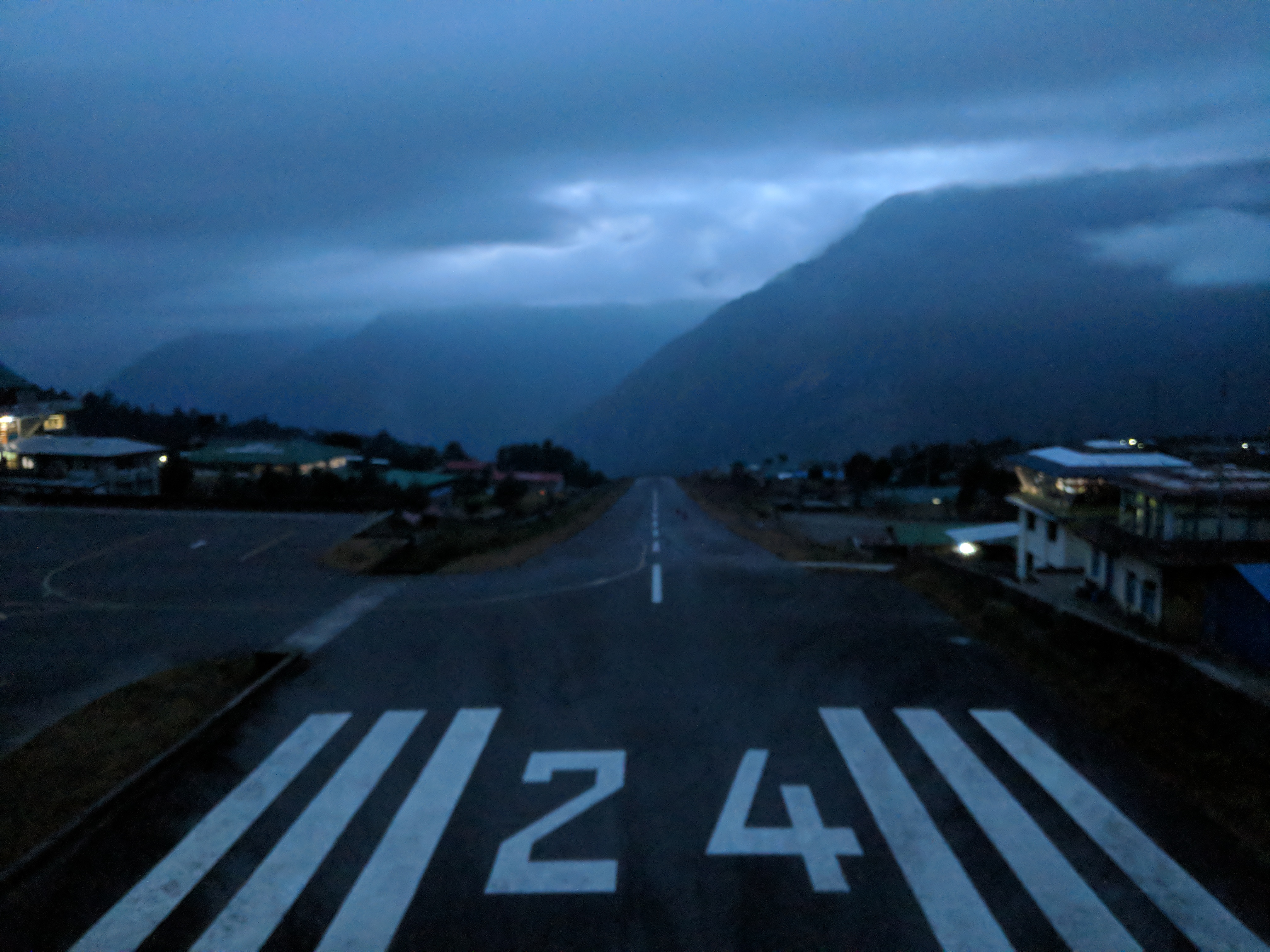 I was travelling with a Sherpa and two friends, from Mexico and Spain. To be honest, the trek wasn't at all 'technical' –it was what is called a 'teahouse trek'–, the primary difficulty being that of the lack of oxygen, it going gradually down to 50%, at Base Camp, of that at sea level. To be clearer still, this primary difficulty was not ignorable however. The both of my friends could not accompany me to the top, or the journey back home, requiring to be helicoptered back down to Kathamandu, and treated in a hospital for altitude sickness.
'Prone to certain poetic disillusionments' was what I started out feeling of myself. My friends, making other friends along the way, were much freer spirits than me, I felt. I had been reading Carlyle's Heroes recently, and what views I was witnessing, I was re-witnessing of myself. The case –of where I was, how I was– astounded me. This was, of course, on the first day of the trip, from Lukla to Phakding, from which point onwards, as we made our way to the much talked about Namche Bazār on the second, we all began feeling the effects of the height.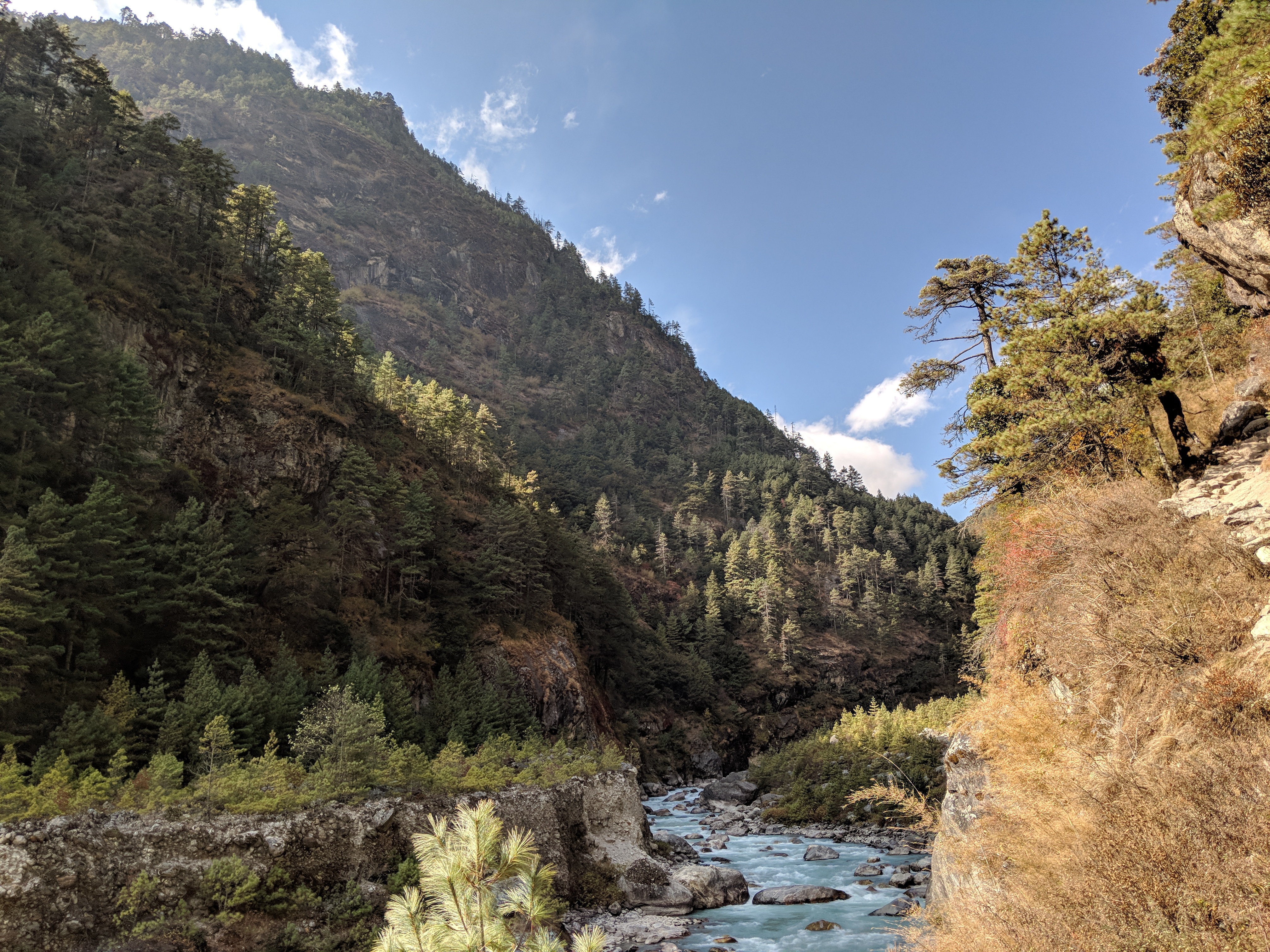 I gave in to buying insurance, feeling scared, frightfully sick, and entirely sleepless; whatever rest I could get, consisted only of the most terrible, and, frankly, strangest of dreams. I did, however, acclimatise myself, and sufficiently soon was able to take pleasure again, in the rosebud cheeks of the Nepali children, and the evident absence of any of the 'trickery' I was so used to from the city. The mountains, really, had begun taking over. Every time I should close my eyes, I could only but muster a landscape. There were scenes that I'd seen, that had, as though, been etched beneath my eyelids. Amongst the rhododendron that seemed to be everywhere, my thoughts were rambling about. In very brief, I was quite 'self-destructive', and, extremely happy about everything, simultaneously.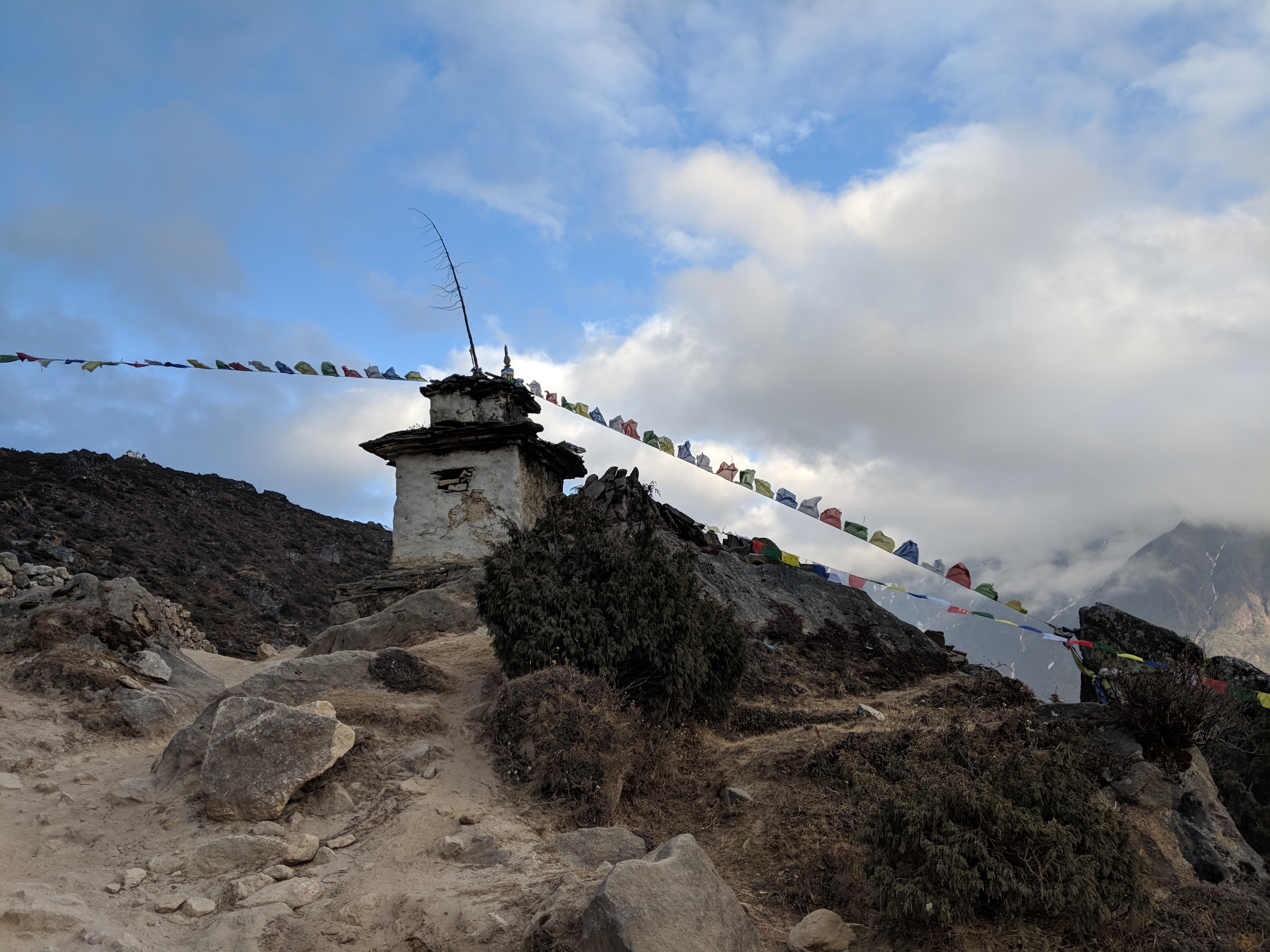 I think it was at Tengboche, at about 3880m, that first I realised the relativity of distance. I was 'nothing' before what was about me. And yet, everything that was about me- my personal history- seemed indescribably magnificent. The frozen-up grass had started sparkling. The dreams only got vivider. Suffice it to say: the heavens appeared haunted. Now and again, I should, indeed, stumble upon mountainfolk sullied from what from tourism I myself was part of, but all in all, who were unable to disturb me. In Dingboche, which in fact was like a cloud, some cottage's chimney caught fire. I went about to see if I could do anything.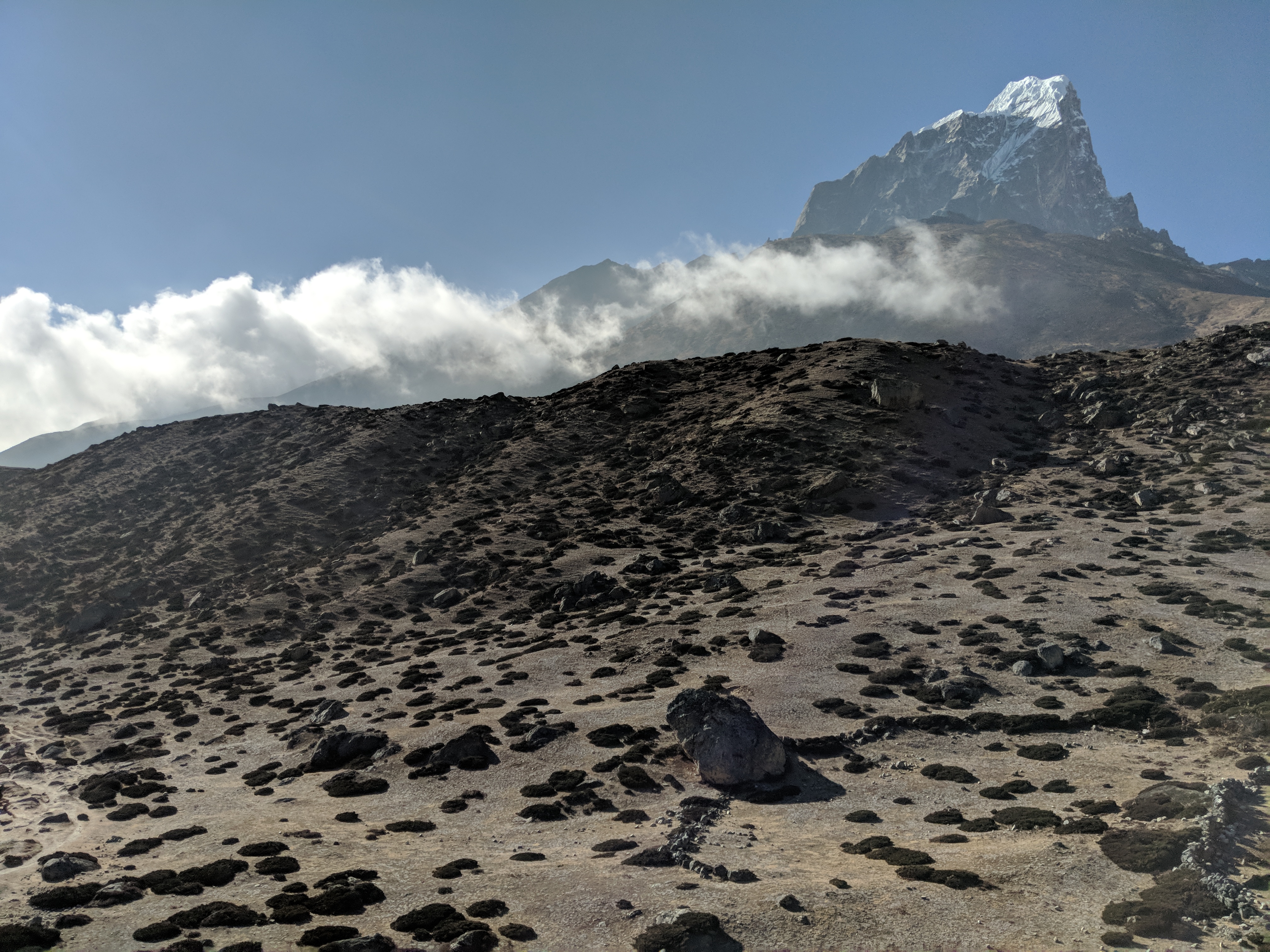 The colours seemed to have grown brighter. The bridges, spanning the peaks, felt especially exciting. I was, of course, noting all this: the particular configurations certain 'stalactites' were assuming, hanging from the roof of my brain. At one of the lodges along the way, I thought I fell in love with one of the waitresses.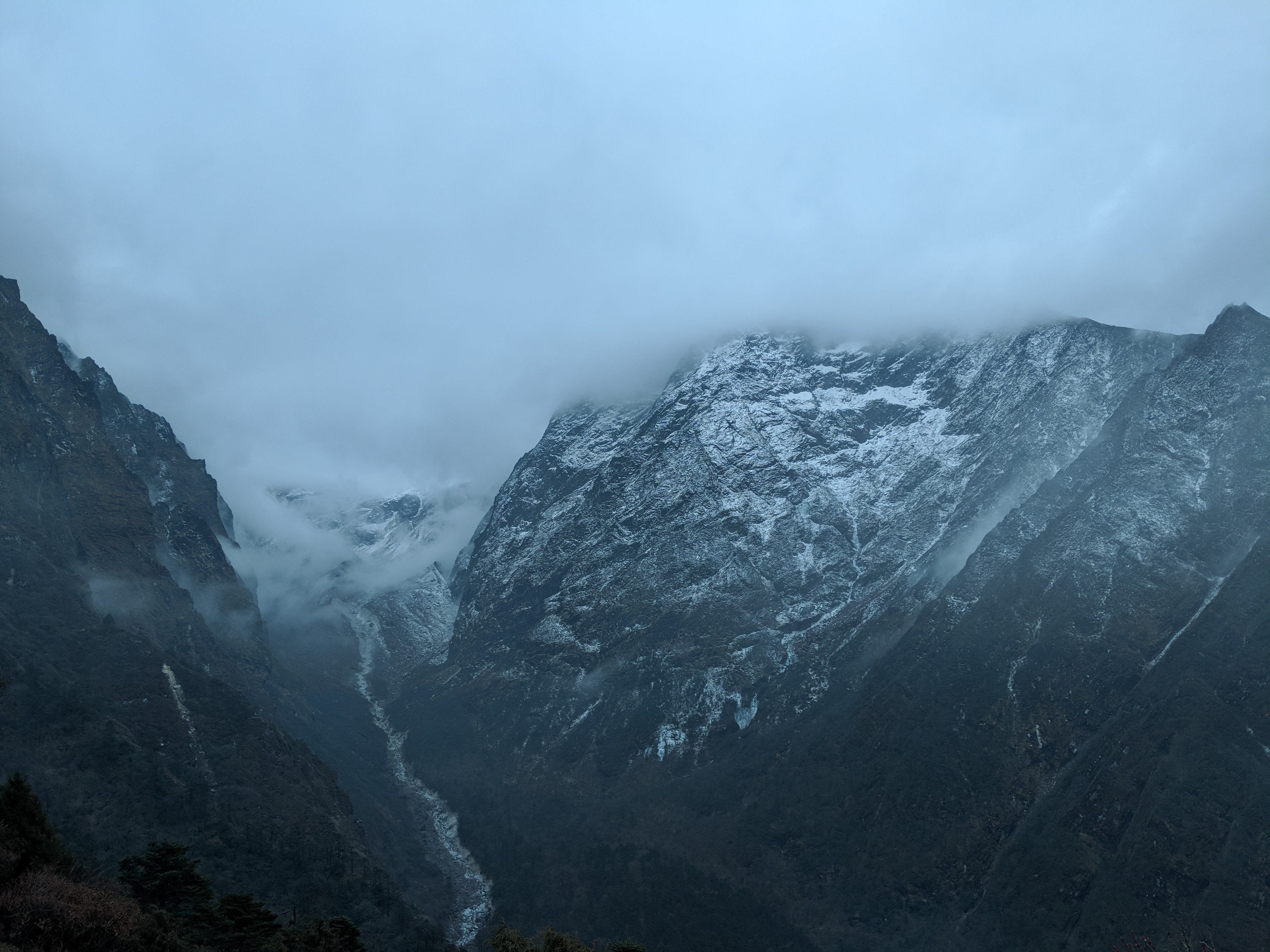 At 5000m, at Loboche, my legs started feeling strange as well, swollen, apparently, to each about a tonne. As for Byron, for me, gradually, the high mountains did indeed become a feeling. In a barren leading up to a massif, I saw reflected 'exactly' what was within me at the time.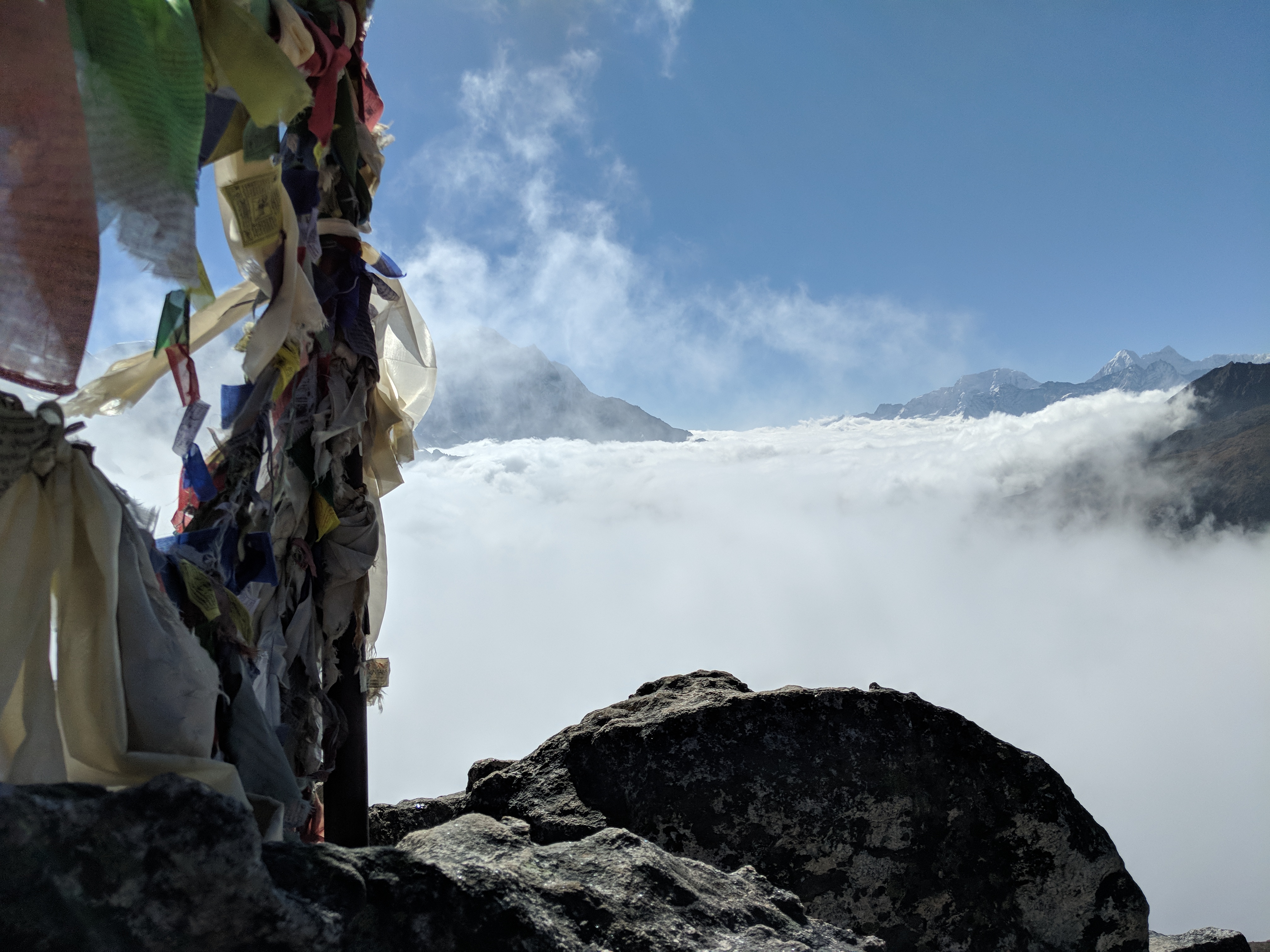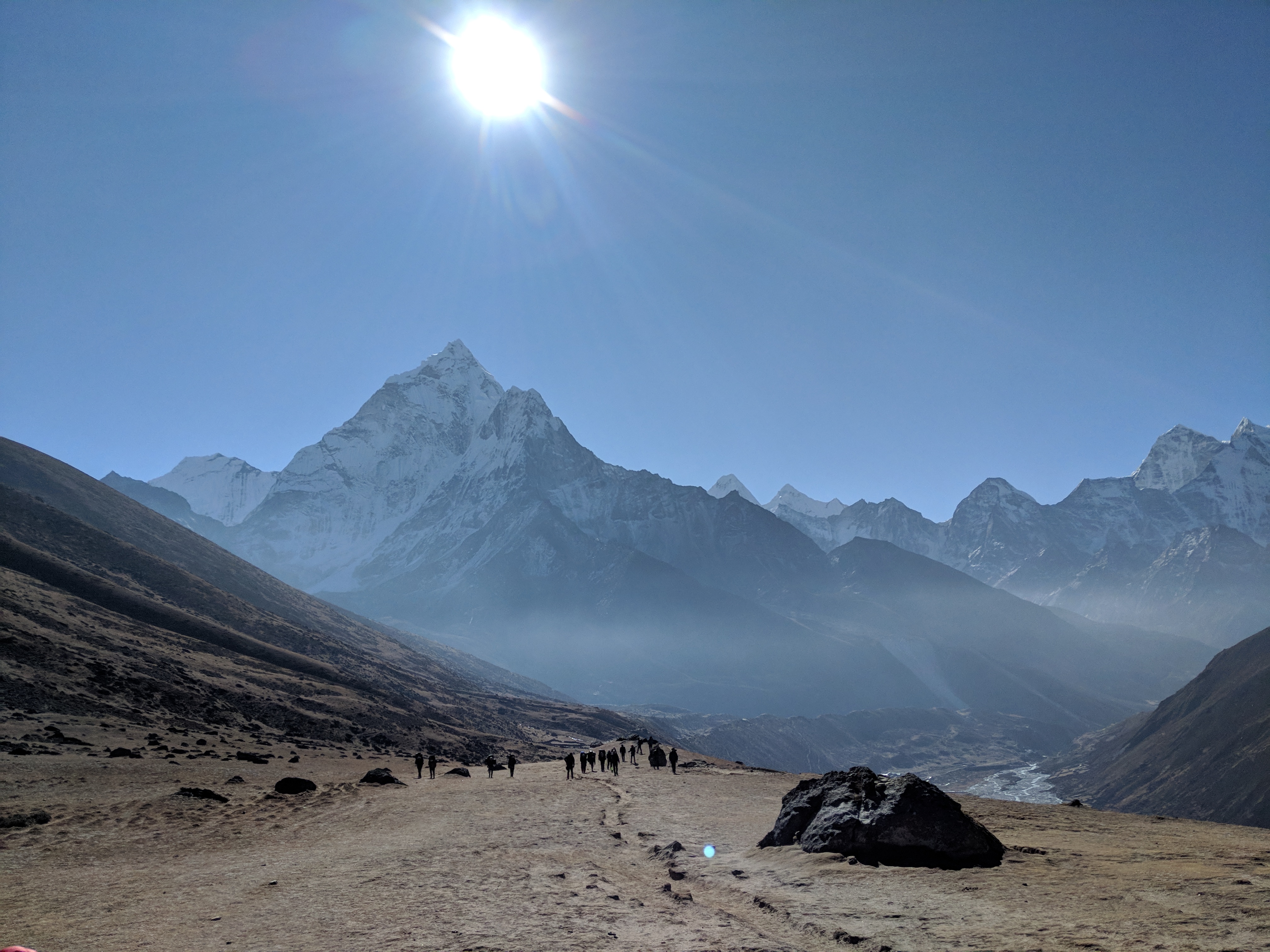 Gorak Shep onwards, 'Almost there! Almost there!', people were continually heard encouraging each other, amidst promises, also, of 'never coming back again!'. A woman of another party fell dangerously ill; the percentage of oxygen in her blood dropping down to 45. She was probably administered cylinders and flown back to the city, though how I don't know in fact, since it was pitch black then outside, with no satellite phones at hand. My own friends, vomiting, also left the next morning. Their departure was confusing and sad. Needless to say, I wasn't well myself, and was only but pushing my own health, to till wherever I could.
But I was indeed there, at Base Camp –the highest point on Earth seemed just down the road– beyond which, as aforementioned, I could only climb a bit farther. I'd never felt like it before: every step a kilometre, my clothes strangling me. I had, of course begun hallucinating, which indeed was when, with a heavy heart, I had at last to accept defeat, and with the help of the Sherpa, retrace my steps.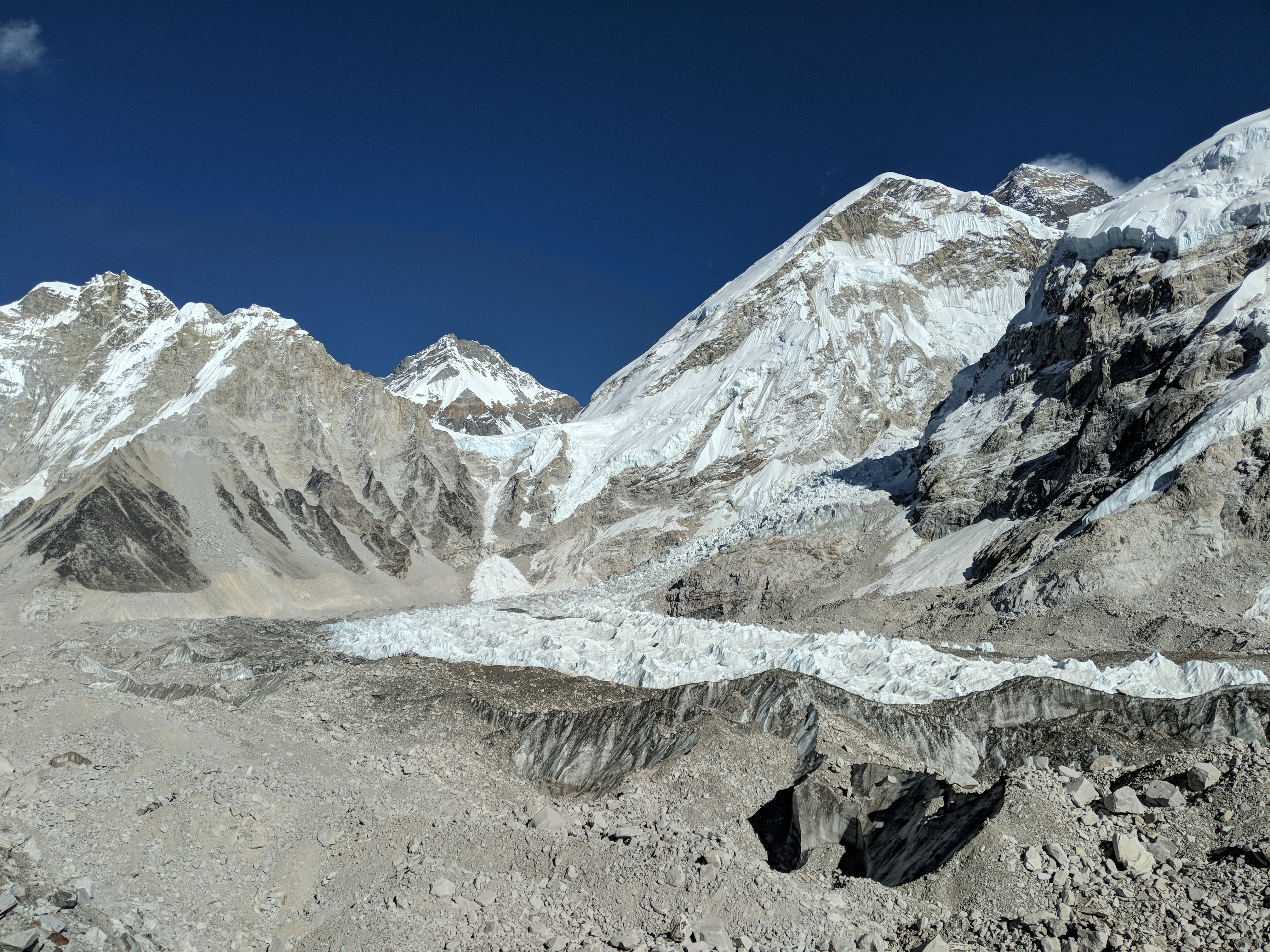 The journey back was lonely. A chance encounter with a mountaineer induced us to remap our route. From Dzongla to Pangboche, and Pangboche to Phortse –a village where summitting Everest seemed to have been a rite of passage, for every man in every family!– we returned to Namche Bazar, the second time round, where it felt like Christmas! At Phakding, before returning to Lukla, and reflecting upon the whole thing – upon which people I'd met along the way, and which people I'd left behind, whose acquaintance I now felt precious– I played awhile with the kids, at the guest house by the river.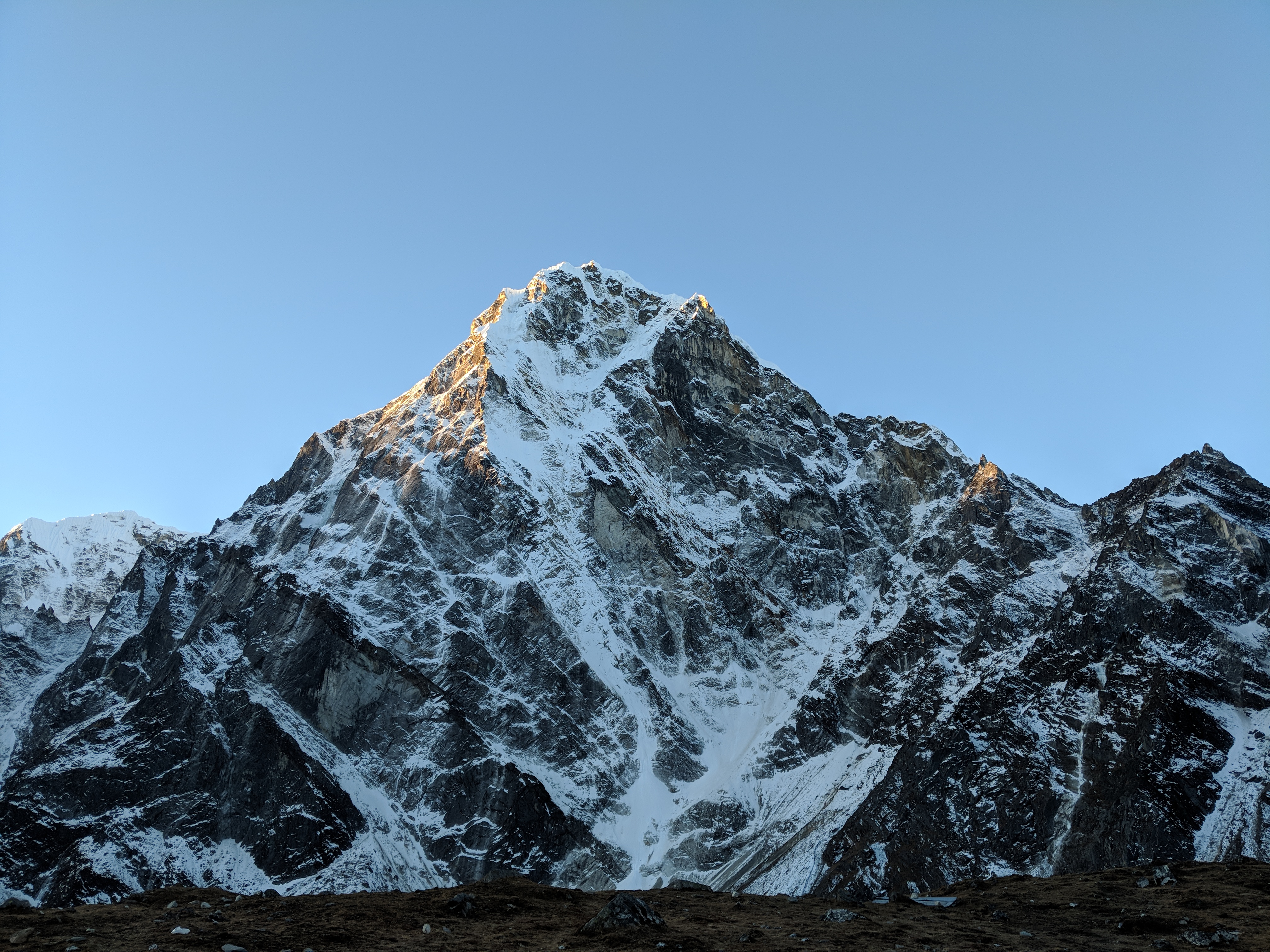 It wasn't all brilliant in the mountains… I was saddened to see cement and steel hauled regularly up by labourers; and big, ugly blots of 'development', where nothing of the sort ought to have happened: 'status' and 'competition' seemed, unfortunately, not also to suffer from a lack of oxygen. The common Nepalese appeared only most interested in 'marriage' and 'money' most of the time. They were once commonly visitors to India. Nowadays, I learnt, the British paid more. It is their 'army', and 'their' army, not their own, that the mountains' sons now dream of joining.
Amazing, isn't it, how Ruskin wrote not only of the glory of the mountains, but also their gloom? Our best thoughts, without doubt, have all come walking.
Words and photographs c Arjun Jain 2021