Launch of the 2024 John Ruskin Prize
June 28th 2023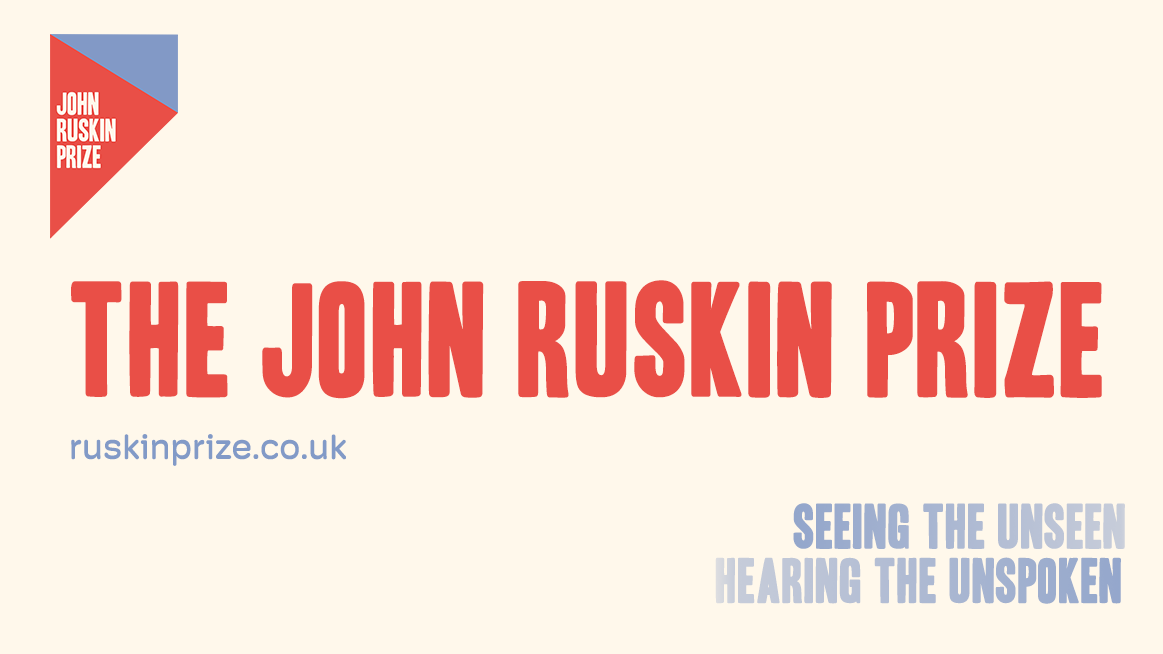 ---
The 6th John Ruskin Prize has opened for submissions.
We are delighted to be a lead partner with our friends at The Big Draw, supporting the sixth iteration of The John Ruskin Prize, as we have in previous years.  In its generous, multi-disciplinary scope, this prize seeks to reflect the polymathic sensibilities of our founder John Ruskin.  This is important in our world, which can feel splintered and disjointed.  The theme of this edition of the Prize 'Seeing the Unseen, Hearing the Unspoken', and the range of prizes, offer rich opportunities for artists and makers to respond to these strange times.  It speaks to Ruskin's own view that 'The greatest thing a human soul ever does in this world is see something, and say what it saw in a plain way.' I know from many years of involvement with the Prize, that submissions are rarely plain and are always interesting and thoughtful -- even provocative. I look forward with great anticipation to seeing what emerges in response to this theme, as artists and makers in every medium help us to make connections, and to see and feel what might otherwise go unseen and unspoken.
Dr Rachel Dickinson, Master of the Guild
---
The 6th John Ruskin Prize Calls for Entries: Seeing the Unseen, Hearing the Unspoken 
Open to:

artists, designers and makers,

worldwide.

•

Theme:

Seeing the Unseen, Hearing the Unspoken.

Awards:

£8,000 total,

with a top prize of £3,000. 

Deadline:

Wednesday 20 September 2023,

5pm BST.

•

Exhibition:

Trinity Buoy Wharf in London,

from 1 to 18 February 2024.

 

Entry portal:

https://new.artopps.co.uk/opportunities/johnruskinprize
The 6th John Ruskin Prize is now open for submissions, inviting artists,  designers, and makers from around the world to participate.  
With a theme of "Seeing the Unseen, Hearing the Unspoken", this renowned art  competition offers £8,000 in awards, including a top prize of £3,000.  
The deadline for entries is Wednesday, September 20, 2023, at 5pm BST. 
The John Ruskin Prize aims to attract entries from a wide range of artists and  makers celebrating creativity in all mediums, encompassing drawing, painting,  print, sculpture, photography, textiles, animation, digital art, performance, installation,  and mixed media art among others. 
Up to 40 artists will be selected to show their work in an exhibition at  Trinity Buoy Wharf in London from 1 to 18 February 2024. Taking home a total of  £8,000, the award winners will be announced on 31 January 2024. 
Five winners will be chosen by the selection panel – to be announced soon –  for the following prizes: • 1st Prize, £3,000, 
2nd Prize,

£2,000, 

The Alan Davidson Under 26 Prize,

£1,000,

The International Prize,

£1,000, 

The 2024 Kate Mason Prize for Innovation,

£1,000. 
For the first time, The John Ruskin Prize opens to international entries,  allowing artists, designers, and makers working outside the UK to participate and  receive a dedicated prize, worth £1,000. Submissions for this category must be  digital, as the judging will be conducted digitally, eliminating the need to ship physical  artworks for exhibition. 
Artworks in a diverse range of media are welcomed, including animation, ceramics,  collage, digital art, drawing, glasswork, installation, metalwork, painting,  performance, photography, printmaking, sculpture, textile, and typography, among  others. 
Entrants are invited to respond to the theme of The 6th John Ruskin Prize,  Seeing the Unseen, Hearing the Unspoken, in their submissions. The works can be 
recent creations or up to three years old, as long as they represent or interpret the  theme. Individual artists, designers, and collectives are all eligible to apply. 
Jane Barnes, Executive Director of The Big Draw, commented: "I am delighted  The Big Draw is launching the 6th John Ruskin prize, with its theme, Seeing the  Unseen, Hearing the Unspoken. The last John Ruskin Prize was in 2019, and during  those short four intervening years, we have encountered a myriad of unprecedented  experiences, which on a global level, turned our lives upside down, and for many  continues to do so." 
"The theme presents a unique opportunity to take stock of where we are now  as individuals, taking a breath, noting how experiencing that extraordinary time has  changed our perception of the world. It feels natural that art, in all its forms, is given  the space to explore this. I know personally, my life will never quite be the same." 
Presented by The Guild of St. George and visual literacy charity The Big Draw,  The John Ruskin Prize upholds the values of John Ruskin, the radical 19th-century  writer, art critic, polymath, and advocate for art's power to reveal universal truths.  This uniquely multi-disciplinary prize offers a platform for artists to explore and  challenge artistic boundaries while honouring Ruskin's influential legacy of  recognizing and supporting artists, designers, and makers who defy categorization  and embrace interdisciplinary practices. 
Submissions can be made through the online entry portal at https:// new.artopps.co.uk/opportunities/johnruskinprize. Pricing tiers are available based on  the number of artworks submitted, allowing artists to select the option that best  reflects their creative vision. 
For press enquiries, please contact Marine Costello at Parker Harris: E: marine@parkerharris.co.uk 
T: 020 3653 0891 
For all other enquiries, please contact Parker Harris:
E: info@parkerharris.co.uk 
T: 020 3653 0896. 
The John Ruskin Prize
The John Ruskin Prize was initiated in 2012 by The Big Draw in partnership with the  Guild of St George. The Prize is the fastest growing multi-disciplinary arts and crafts  prize in the UK. With the values of the radical polymath John Ruskin at its core, the  #RuskinPrize has a growing representation for supporting and promoting artists,  designers and makers whose work defies easy categorisation. 
The Big Draw
The Big Draw is a visual literacy charity promoting the universal language of drawing  as a tool for thought, creativity, social and cultural engagement. The Big Draw  (formerly The Campaign for Drawing) was launched in 2000 with support from and  spearheaded by The Guild of St George, the charity founded by John Ruskin in 1871  - becoming an independent arts education charity in 2006. 
The charity leads a diverse programme of advocacy, empowerment and  engagement, and is the founder and driving force behind The Big Draw Festival –  the world's biggest celebration of drawing. The Big Draw manages collaborative  research projects, campaigns and educational conferences on visual literacy, digital  technology and STEAM. The charity supports professional and emerging artists  through its national contemporary art prize, The John Ruskin Prize and exhibition,  and through events, awards, and competitions, creates platforms for anyone who  wants to draw. 
www.thebigdraw.org | Charity no. 1114811 
Parker Harris
Parker Harris oversee ArtOpps, the art opportunity portal hosting The John Ruskin  Prize call for entries. Created in 1990, Parker Harris is one of the leading visual arts  consultancies in the UK facilitating exhibitions, events and opportunities for artists.  Specialists in expert creation and project management of visual arts projects  spanning all disciplines and all scales, Parker Harris' clients range from trusts and  foundations, SMEs and multinationals to charities, arts organisations and individual  artists. 
Trinity Buoy Wharf
Trinity Buoy Wharf is a site devoted to creative and arts activity on the River Thames  in London's Docklands. Home to London's only Lighthouse, a vibrant creative  community, a sculpture park, event venues and Container City™ Buildings. Home to  a thriving creative community of over 500 people, Trinity Buoy Wharf is a base for  English National Opera, Uber Boat by Thames Clippers, Faraday School, The Big  Draw and The Prince's Foundation to name a few. Trinity Buoy Wharf hosts a vibrant  programme of public art and sculpture, talks and workshops, exhibitions and events. 
https://www.trinitybuoywharf.com/
The Alan Davidson Foundation
The Alan Davidson Foundation sponsor The Under 26 Prize for The 6th John Ruskin  Prize. The Alan Davidson Foundation is a UK registered charity that supports a wide  range of causes. There is a strong focus on MND research, care and initiatives that  help support those with disabling neurological conditions. It also supports  architecture and architectural initiatives. The Davidson Prize has just been launched,  a new architectural prize rewarding innovative concepts that imaginatively rethink the  design of the contemporary home.