Lawrence Ferlinghetti - a Ruskinian appreciation
April 8th 2021
"The Passing of Lawrence Ferlinghetti: One Who Could Have Been a Companion" by Kathleen González
---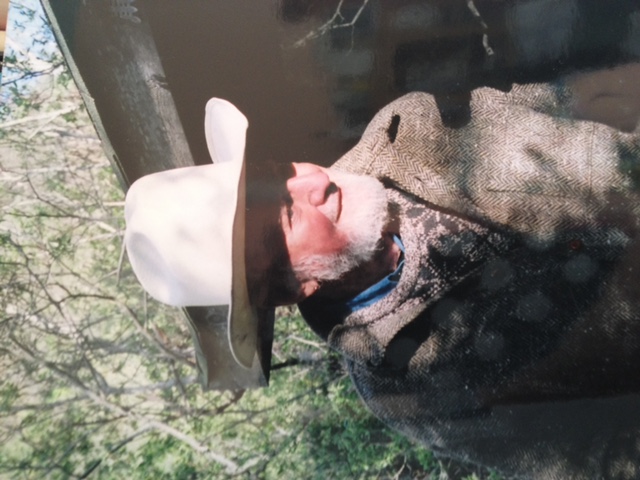 "Be committed to something outside yourself." –Lawrence Ferlinghetti
On February 22, 2021, the world lost the pacifist-activist poet Lawrence Ferlinghetti, just a few weeks shy of his 102nd birthday. Ferlinghetti, who wrote his Masters thesis on John Ruskin, could have been a Companion as many of his interests and activities intersect with the Guild of St. George's beliefs.
In Poetry as Insurgent Art, (1975) Ferlinghetti wrote,
"Have wide-angle vision, each look a world glance. Express the vast clarity of the outside world, the sun that sees us all, the moon that sees us all, the moon that strews its shadows on us, quiet garden ponds, willows where the hidden thrush sings, dusk falling along the riverrun, and the great spaces that open out upon the sea . . .  high tide and the heron's call . . . . And the people, the people, yes, all around the earth, speaking Babel tongues. Give voice to them all."
The reverence for natural spaces, the valuing of all creatures, the desire to let all of them speak for themselves echo from these words. Just as Ruskin wrote about Venice, "I would endeavor to trace the line of this image before it be for ever lost …," Ferlinghetti's poetry likewise urges readers to pay attention before it's too late, as in his repetition of the "rebirth of wonder" seen in his poem "I Am Waiting."
Though Ferlinghetti had served on a WWII Navy submarine chaser and was present at D-Day, he later eschewed war. After visiting Nagasaki, Japan, in the aftermath of the atomic bomb, Ferlinghetti said, "It made me into a lifelong pacifist." He moved to San Francisco to be a painter, but he instead co-founded City Lights bookstore, which popularized inexpensive paperback books for all. Probably best known for his poetry book A Coney Island of the Mind (1958), which has never been out of print, he was also put on trial for publishing Allen Ginsberg's Howl, winning a verdict that secured freedom of speech for publishers. Ferlinghetti later became San Francisco's first poet laureate, serving from 1998-2000.
Ferlinghetti earned his Masters degree at Columbia University in 1947, composing his thesis titled "Ruskin's Turner: Child of Light." In it, Ferlinghetti outlines the many references Ruskin makes to light in his writings about J.M.W. Turner's paintings. The thesis is replete with quotes from Ruskin's Modern Painters as well as lines of poetry from Wordsworth, Shelley, Keats, and other Romantic poets whose writing he compares to Turner's painting. Ferlinghetti shows convincingly that Ruskin so highly prized Turner's use of color and light, and that these two elements bring out the Divine in nature, that Ruskin placed Turner at the apogee of the pantheon of modern painters; however, that opinion was somewhat tempered in Ruskin's later years when his obsession with light had diminished somewhat. In numerous places Ferlinghetti also comments on Ruskin's highly embellished writing style, even offering that, in the hands of the right publisher, Ruskin's prose could be arranged to read like poetry (especially interesting because Ferlinghetti favored prose poetry himself).
Ferlinghetti went on to earn a doctorate at the Sorbonne with the paper "The City as Symbol in Modern Poetry." His friend, the poet Gary Snyder said of Ferlinghetti in 2009, "His particular brand of highly reasoned, highly intelligent but witty political activism … he has carried that in his life and in his poetry effectively but lightly through his whole career."
written by Companion Kathleen González, April 2021
---
More quotes from Poetry as Insurgent Art:
"The state of the world calls out for poetry to save it. (A voice in the wilderness!)"
"Put your ear to the ground and hear the turning of the earth, the surge of the sea, and the laments of dying animals."
"Strive to change the world in such a way that there's no further need to be a dissident."
"Don't destroy the world unless you have something better to replace it."