Obituary of James S Dearden, MBE, 1931 - 2021
November 11th 2021
by Clive Wilmer
---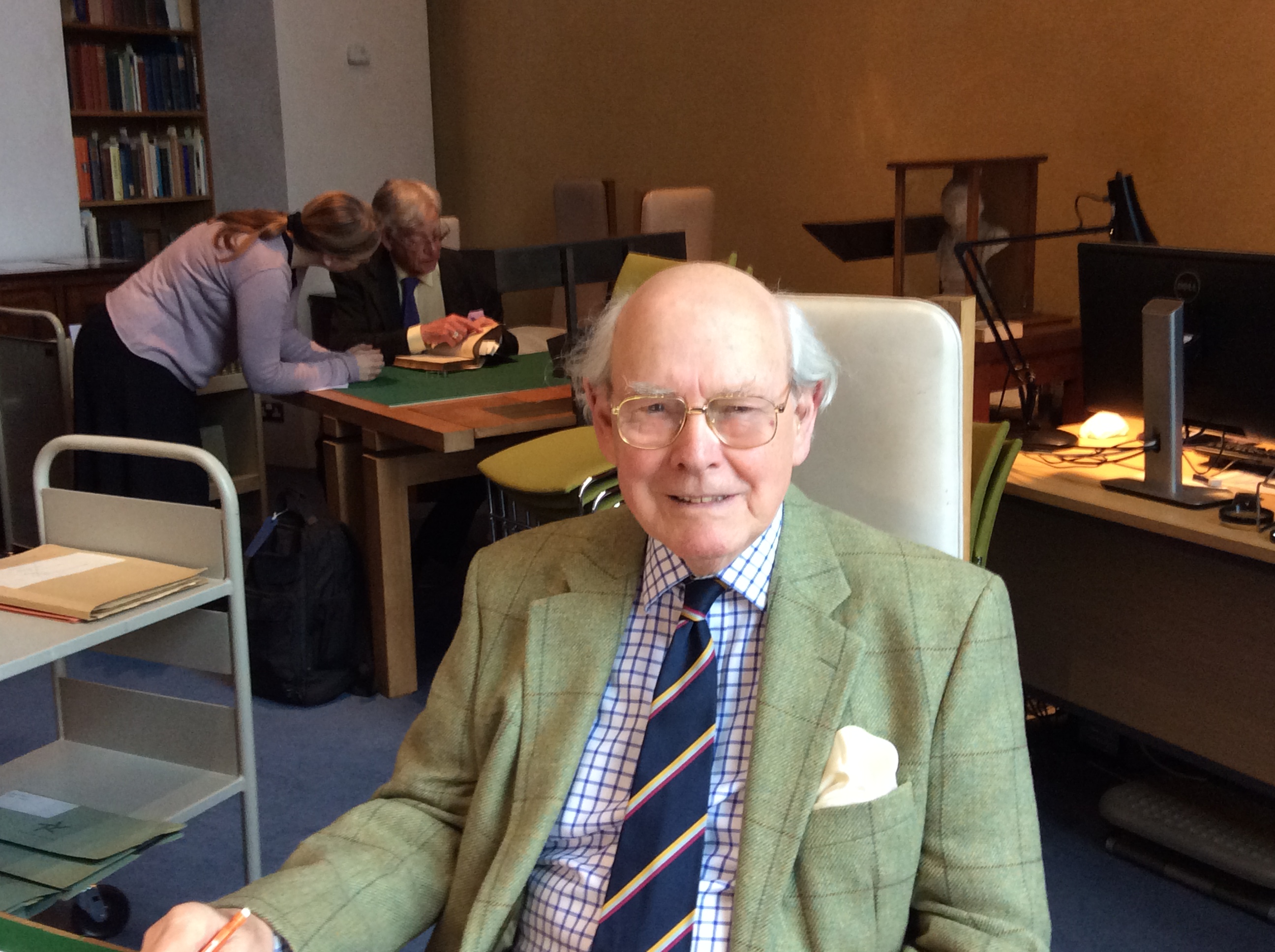 ---
Companions of the Guild and Ruskin enthusiasts everywhere have been sad to hear of the death on 23 October of James Dearden, Master of the Guild from 2004 to 2009. He was 90.
As Curator of the Whitehouse collection at Bembridge School, as convenor of the historic Brantwood Conference widely thought to have launched the Ruskin revival, as a Guild Director for 35 years, as author of many books and advisor to three generations of Ruskin scholars, as bibliographer and book collector, Jim made a uniquely rich contribution to the recovery and enthusiastic pursuit of all things Ruskinian. It helped that he was a modest, unselfish man, friendly, convivial and an engaging raconteur. There can be no Ruskinians who are not, directly or indirectly, in his debt. 
Born in the Lake District in 1931, he attended Bembridge School on the Isle of Wight from 1945 to 1949. The school had been founded on experimentally Ruskinian lines by the philanthropist and Liberal politician J. Howard Whitehouse, who went on to purchase Ruskin's house on Coniston Water and was building up a comprehensive collection of Ruskin's books, manuscripts, drawings and memorabilia, which were held at the school.  In 1957, as a young bibliophile looking for a job, Jim returned to the school to teach there. In particular he  taught printing, a key part of the school's Ruskinian emphasis on craft. As a boy, hearing of Ruskin day by day, he had taken no more than a passing interest in the great man, but before long, he was invited by Whitehouse's heir Gerran Lloyd to care for the collection. It was then that the enthusiasm began and he stayed on as curator till 1996, when the collection was moved to Lancaster University.
Ruskin's reputation in the 1950s was at a low ebb – few people had even heard of him – but during the next decade it began to recover and did so on both sides of the Atlantic. In 1969, in response to the revival, Jim set up a conference at Brantwood, which brought together Ruskin experts and enthusiasts from several parts of the world. As a result, a Ruskin Association was founded with Jim at the helm. In 1979, because of the contacts he had been steadily gathering, he was invited to join the Guild of St George as Companion and Director. As a result, he was actively involved in the first period of Guild expansion, when the Verrocchio Madonna was sold (against Jim's judgement, as it happens) and the Guild's Ruskin Collection – what had been St George's Museum – brought back to Sheffield after a long period in storage. In 2004, at a time of crisis in the Guild, Jim agreed to become Master, a role in which he gently pushed the Guild forward, making a second major expansion possible. After standing down as Master in 2009, he remained on the Board as Director for Ruskin Affairs till 2014. As his immediate successor, proposed by him for the Mastership, I couldn't have done without his help, support and legacy of trust.
In the course of a long life, Jim built up a number of book collections, of which the most wide-reaching was of Ruskin. Along with the major publications, it included a good deal of stray materials and ephemera – articles, advertisements, memorabilia and so on. His first large-scale collection – of Lake District books – is now in the Wordsworth Museum in Grasmere, labelled the Dearden Collection.
Jim wrote a great deal – more than I can record here, but I will name the most notable things. His own story is related in a light, off-the-cuff manner in Rambling Reminiscences (2014). He collected his many articles in three volumes: Facets of Ruskin (1970), Further Facets of Ruskin (2009) and A John Ruskin Collection (2017). He wrote a history of the Whitehouse Collection, Ruskin, Bembridge and Brantwood (1994). He edited a number of important volumes – an edition of Ruskin's boyhood poem Iteriad, or Three Weeks among the Lakes (1969), for instance, and The Professor: Arthur Severn's Memoir of John Ruskin (1967). For the centenary of Ruskin's death in 2000, he edited with meticulous scholarship John Ruskin: A Life in Pictures (1999), which brings together every image of Ruskin then known – paintings, drawings, engravings, caricatures, sculptures and photographs. But important as that book is, Jim's most momentous and perhaps most durable publication was The Library of John Ruskin (2013), which is that rare thing, a readable bibliography. It sought to name and describe every book that Ruskin had owned at some time in his life. Its splendid introduction was surely the finest thing that Jim ever wrote. As this great volume shows, Jim combined the skills of a great detective with a memory like a filing system. 
Jim was also entertainingly knowledgeable about the places he had known and lived in, especially the Lake District, where he was born, and the Isle of Wight where he spent most of his life. He was very much involved in activities local to the island. He was, for example, a member of both the Bembridge Sailing Club and the Isle of Wight Foot Beagles, of which he was at different times Master, Chairman and President. His work for the Whitehouse Collection led him to distant and sometimes unlikely places, accompanying loans – to remote parts of the US, for instance, to Japan and to Italy. After his retirement he began to garner awards and distinctions. In 1998, he was made Honorary Doctor of Letters (D Litt) at Lancaster University and, in 2018, he was appointed MBE for 'services to culture'. Earlier this year, at an online ceremony, he received a Lifetime Achievement Award from the newly founded Ruskin Society of North America in celebration of his ninetieth birthday. He was delighted and sometimes visibly moved by such recognition. He had no self-importance and so was always surprised when honours came, though he must have known he deserved them. I well remember his retirement as a Guild Director when a tribute paid to him at the AGM brought tears to his eyes.
He was in some ways an improbable Ruskinian. He always said that he was not much interested in Ruskin's ideas and I noticed that he didn't always agree with them. What mattered to him were Ruskin's life and connections, the bibliography and the drawings. It was his good fortune that others needed advice on these matters and he was always ready to give it, expecting to gain no advantage thereby but a sharing of his fascination and the many friendships that came of it. Many Ruskin scholars have told how, working at Bembridge and pursuing some elusive fact or quotation, a word from Jim led them to their goal, at the same time opening up some new line of enquiry. It goes without saying that he will be very greatly missed.
He was married in 1958 to Jill Cheverton, whom he'd met when both of them were working at the school. Jill nearly always accompanied him on his travels and endured his commitment to Ruskin with the placidity of a saint. She was a popular figure at Ruskin gatherings until a painful illness made travel impossible. She died in 2015. Jim leaves a daughter Sarah Washington and her daughters, Caroline, Harriet and Elizabeth, all three of whom are Companions of the Guild.
CLIVE WILMER, NOVEMBER 2021