Reading Ruskin's Cultural Heritage, by Gill Chitty - book review by Peter Burman
July 21st 2023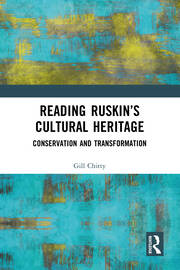 Companion and Guild director Peter Burman reviews Gill Chitty's new book, 'Reading Ruskin's Cultural Heritage, Conservation and Transformation'.
---
A profound commitment to the thoughtful reading of Ruskin texts is found in Gill Chitty's book Reading Ruskin's Cultural Heritage, Conservation and Transformation (Routledge, 2023), with which I have been living delightedly for some weeks. The work contains 'six stimulating essays on Ruskin's readership and reception, his transformative perceptions of heritage futures and provocative writing on cultural landscapes and the arts and crafts'. The substantial readings at the ends of the six chapters have been chosen with exemplary care, and it has been a pleasure to read and re-read them aloud.
Ruskin's ability to turn a memorable sentence or paragraph means that he has all too often been represented by quotations taken out of context. Some of them stand alone very well, for example the oft-quoted paragraph on the art of seeing, truly and deeply. But it is refreshing and instructive to read familiar words in their wider contexts. It is also welcome to read passages of Ruskin dealing with landscape and cultural heritage rather than just architecture and buildings: Ruskin wrote 'whatever other faculties I may or may not possess, this gift of taking pleasure in landscape I assuredly possess in a greater degree than most men; it having been the ruling passion of my life, and the reason for the choice of its field of labour'. [Modern Painters III, Works 5:365]
In Gill Chitty's chapter Lost in translation? Reception in Britain and beyond, I read the following with special pleasure: 'Ruskin's associative values resonate with Japanese traditions of viewing landscape. In 1919, Japan introduced one of the earliest forms of statutory protection for cultural landscapes, meishu (literally, 'a renowned site'), which recognised the significance of natural places associated with pictorial and poetic representations as well as other cultural and natural characteristics. Much of Ruskin's writing on landscape art and architecture is animated in the same way by picturesque and literary associations and modes of seeing landscape … He repeatedly highlights the same themes as Shiga Shigetaka, author of the seminal On Japanese Landscape (1894) – claimed as 'the Ruskin of Japan' – who wrote of the centrality of experiencing landscape beauty in Japanese national culture and identity.' This was of special interest to me as a member of a group of Japanese-British scholars and enthusiasts who are exploring together through the Guild of St George the response that Ruskin's writings evoke in contemporary thoughtful Japanese men and women.
This is a book which I shall study again and again, and whose insights I shall treasure. 
PETER BURMAN
For more about the book, and purchasing options, visit the Routledge website HERE.