Terry Johnson: architect & calligrapher.
December 2nd 2021
Companion Terry Johnson, who inscribes the names of new Companions into the Guild's Roll, explains the origins of his passion for architecture and calligraphy.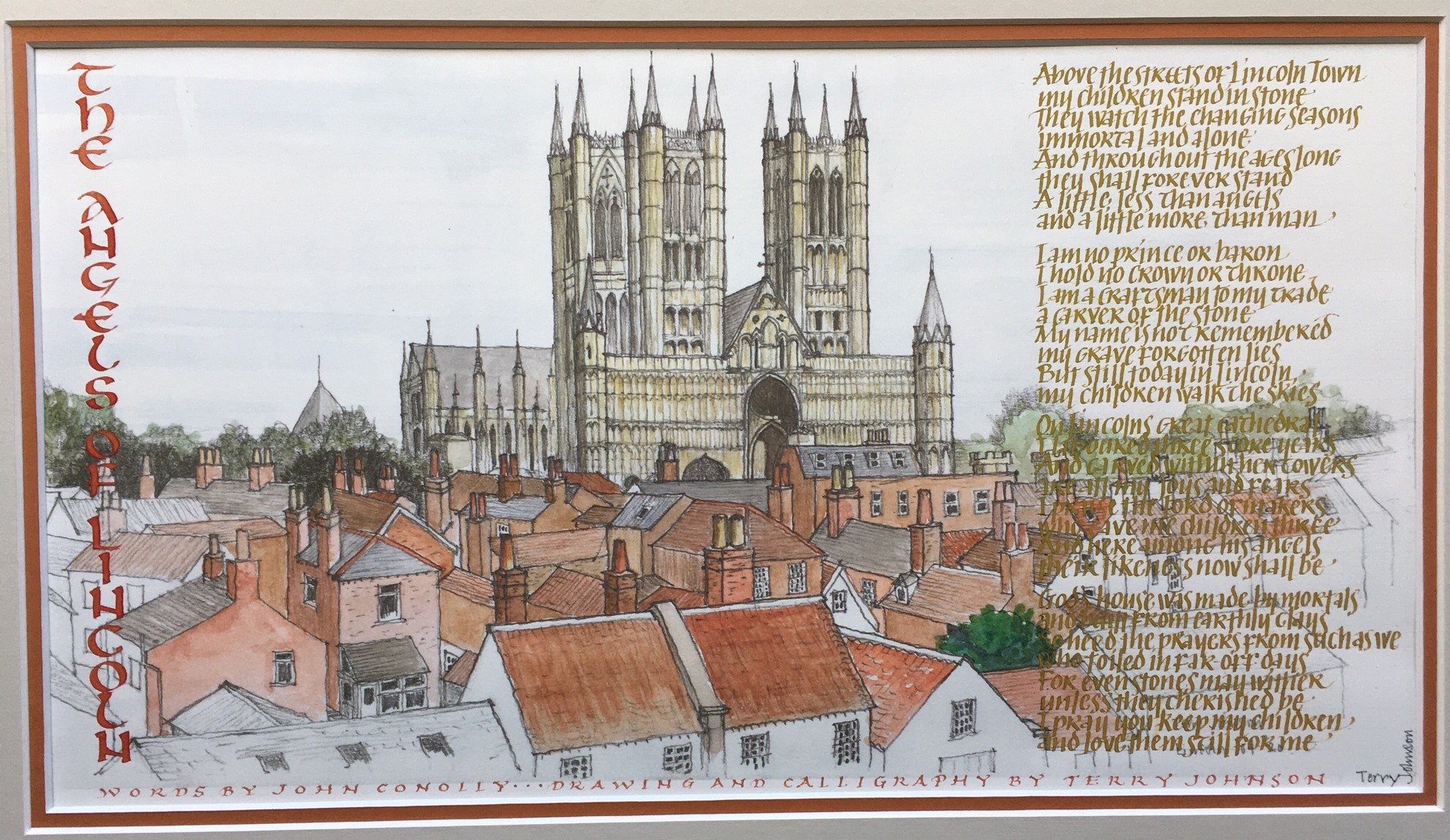 Louth 
Louth is where it really all began but even before that, as a pupil at Clee Grammar School,  Cleethorpes, I had been cursorily introduced to Calligraphy as part of the 'O' level art course.  I'd always had a neat hand at school and it clicked with me. The art master, Tom Robinson, allowed us to use his own personal art library where I came  across a fairly rudimentary History of Architecture and I recall being quite enthralled by the  classical 'Orders' of Architecture. 
And so were born the two loves of my life (notwithstanding my wife, I hasten to add). 
On leaving school, I started work in an architectural practice in Louth, as I simultaneously  pursued my architectural career via a course of external study through the RIBA (not an easy  route). Some of the first exercises required were free-hand sketches and the drawing of St.  James' church, Louth, was one of these, together with a pen drawing of one of the Apostles  carved on the pulpit. My history of the church in verse form came later and was calligraphed to accompany the drawing. 
In fact, a close friend, who recently ended his captaincy of a local golf club, asked me to put the  two together as a 'thank-you' gift to the club's steward, who later opened a high-class restaurant  in the former public library building of Louth and took the gift with him. Not wanting to disturb the  interiors of this Grade 2* Listed Building, my piece now hangs above a splendid 'throne' – the  first time I have exhibited in a Gents toilet (if you know what I mean) and so, to a limited audience. 
Some years later, and having given up the day job to do so, I graduated from Leeds School of  Architecture as a qualified architect with my final year Design project for 'New Civic Assembly  Rooms for Cleethorpes', sited on the sea front, strongly linking to my roots. 
In the early days of my career, I was technically an architectural assistant and it is said that  architects' drawings are a means to an end, and so they are, but I vowed to produce the best  drawings that I could. I did just that and had a good reputation for doing so. Of course, these were pre-CAD days and so all drawing and annotation was done by hand but I  never did go down the computer route and continued with my hand drawing – consolidating my  reputation and obtaining commissions because of that. I just thoroughly enjoyed the whole  process. 
Even after retirement, the drawing continues, frequently and prominently featuring Lettering as  part of my ARTchitecture brand. I am also a keen supporter of the world wide Urban Sketchers fraternity. 
The drawing of Lincoln Cathedral's west face (above) came about many years later via a visit to some  friends in Barnetby-le-Wold and a trip to Lincoln with a walk around the castle ramparts. This too was nostalgic as I had attended Lincoln Art School to facilitate my architectural studies and  sketches were done around that area as well as preparing some 'measured drawings' of the  façade of the Wren Library and a bay of the cathedral cloisters (all as part of these early  studies). 
Accompanying the cathedral drawing are the words of a song – The Angels of Lincoln – penned  by John Conolly, a founder member of the original Grimsby Folk Song Club, who willingly gave  his permission to use them. His words have a genuine and moving affinity with the architecture.
I have often thought, that had I not been an architect, I might have been a stone mason (but  maybe not a 'Jude the Obscure') and thus, had a different life altogether. 
The Calligraphy continues too with work both for my own pleasure and with many varied commissions, a number of which have come about via the wonderful area in which I have lived for five decades, on the edge of the Lake District. The scenery and local history have initiated  many pieces of work, the Shepherds' Counting (Yan, Tyan, Tethera, etc - see below) being a firm favourite  over the last 25 years and copies of which are now all over the world. 
My right hand has received its 'Warhol 15 minutes of fame' by being filmed writing with a quill as a stand-in for an actor playing the part of David Hume as part of a BBC programme on The  Enlightenment period. A most intriguing experience. 
Here, up north, it all continues to this day – NULLA DIES SINE LINEA (no day without a line) -– but the call of Lincolnshire still echoes around.
Terry Johnson