Whitelands May Day Festival 2019
July 18th 2019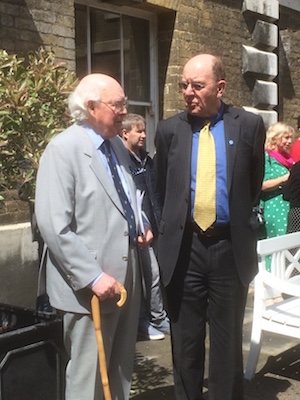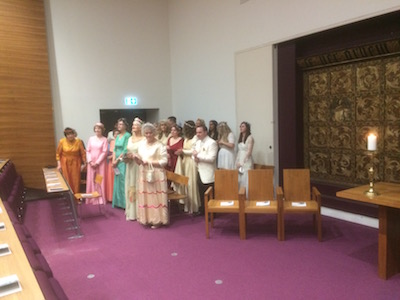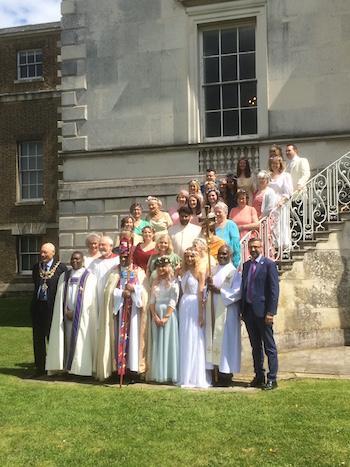 I have attended the Whitelands May Festival every year but one for the last thirteen years. This year's was my last as Master of the Guild. The Guild has traditionally presented the Ruskin books to the May Monarch and their supporters at the May Day festival, which falls on a Saturday in mid-May.
With the help of Companion Beate Howitt, I have recently made more contact with former May Monarchs, notably Noreen Sullivan, the eldest of those who still attend May Day, and with the Chair of the Guild of St Ursula, Jean Adams. The Head of College Mark Garner and I agreed to invite the May Monarchs, representatives of the College and Companions of the Guild to a dinner on the Friday night.
Gilly King, the Whitelands Curator and Archivist, who is also a Companion, offered to mount an exhibition (see below) of Ruskin's gifts to the College and to give a short talk before dinner about the exhibits. I had seen the Ruskin donation a long time ago and had forgotten how rich and generous it was. It includes a dozen copies of Turner watercolours by William Ward, of very high quality; two Dürer engravings, four engravings by Ludwig Richter, three Ruskin watercolours, several letters by Ruskin and many important books, most of them either dedicated or annotated by Ruskin. There are ancient coins and manuscripts; two first editions of Johnson's Dictionary (1755); a complete volume of John Gould's exotic birds, which is magnificent; several volumes of Italian sculpture in photogravure; several volumes of the collected edition of Ruskin published under his control; working copies of several of his books with marginal annotations for revision etc. etc. Gilly also included, at my suggestion, the beautiful May Queen dress designed by Kate Greenaway and several gold crosses, including those designed by Arthur Severn.
I discovered to my surprise that I was one of the very few people present who had seen these treasures before. None even of the May Monarchs had. Gilly in her speech suggested that the College might hold such an exhibition every year and encourage the students to see it. I made a similar plea in my after-dinner speech. The new Vice-Chancellor of Roehampton University Jean-Noel Ezingeard, who was attending his first formal College occasion, made it clear afterwards that our thoughts had not fallen on deaf ears. He was enthusiastic about finding new ways to share the collection with students.
The College provided an excellent dinner and the May Monarchs ensured that there was a delightfully convivial atmosphere. The Guild was represented by Jenny Robbins, Simon Seligman and myself, to say nothing of Gilly, Mark and Beate, all Companions. Jenny and I split the after-dinner speech between us, she looking to the future and I to the past.
The next day, I was delighted that Jim Dearden joined us from the Isle of Wight for the May Day service and celebrations. It was a very happy occasion.
Clive Wilmer