Whitelands Ruskin Lecture 2018
May 11th 2018
ONE OF RUSKIN'S WHITELANDS COLLEGE MAY QUEENS: HER PERSONAL STORY
Beate Howitt, Guild Companion and 1957 Whitelands May Queen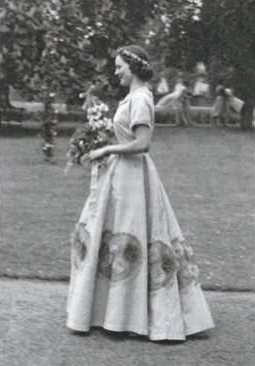 In 2017, Guild Companion Beate Howitt celebrated the 60th anniversary of her election and crowning as the Whitelands May Queen, in a tradition instigated at John Ruskin's suggestion in 1881. In this year's Ruskin lecture, Beate shared her story of her crowning as May Queen in 1957, her perspective having come to this country as a refugee from Nazi Germany and her lifetime of interest in Ruskin's ideas since.
A note from Guild Master Clive Wilmer: Beautifully crafted and engagingly delivered, Beate's talk gave vivid testimony to the deep meanings embodied in Ruskin's conception. His May Day has often been thought one of the more eccentric of his projects. Beate made it clear to us that, on the contrary, it touches on the whole purpose of the College and asks us to reflect on education, community, love of nature and the joy of life.
Like most Guild lectures, the text of Beate Howitt's One of Ruskin's Whitelands College May Queens: Her Personal Story is available as a Guild booklet. Priced at £6, copies may be obtained from the Director for Publications, Peter Miller, at peter.miller30@btinternet.com. Many other Guild publications can still be obtained from Peter, including the Ruskin Lecture for 2017, Louise Pullen's Genius and Hell's Broth: A Tale of Two Artists - Frank Randal and William Hackstoun, also £6.
The May Day Ceremony followed on Saturday, 12 May. Dr Rachel Dickinson presented the May Monarch and his or her attendants with a selection of Ruskin's books.