About The Collection
In his public letters, published under the title Fors Clavigera, Ruskin wrote of his desire to make art, books and other cultural treasures available to everyone by means of a 'national store'.
---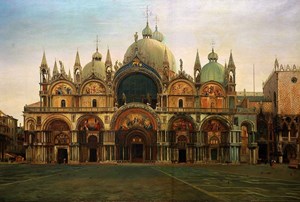 In 1875, he opened St George's Museum, in Walkley, a suburb of Sheffield. The museum and its collection of watercolours, drawings, prints, plaster casts, minerals, illustrated books, manuscripts and coins was intended to be an educational resource to stimulate the creative imaginations of the metalworkers of Sheffield. Today, the Ruskin Collection (as it is now known) is on permanent display in a dedicated Ruskin Collection Gallery in Museums Sheffield's Millennium Gallery.
The artworks in the Ruskin Collection are in line with Ruskin's principles and taste. Some were commissioned by Ruskin to illustrate his works and were subsequently give by him to the Guild. Others, including prints by J.M.W. Turner, and many  minerals, books and manuscripts were purchased by him specifically for the Guild or were passed on from his own private collections. From the 1890s, further works were acquired by the Guild's 'memorial fund', and the Guild still makes acquisitions today.
The St George's Museum, Walkley was small. A couple of extensions to the property proved inadequate and in 1890 the collection was re-displayed at larger premises at Meersbrook Hall. It remained there until 1953. After several years when much of the collection was kept in storage at Reading University, the collection was brought back into public view in 1985 at the Ruskin Gallery on Norfolk Street in Sheffield city centre. It moved at the start of this century to the nearby Millennium Gallery. Many works from the Ruskin Collection—more than a thousand!—can be viewed online via the Museums Sheffield website. (You can find a few illustrations at the bottom of this page.)
---
A CALENDAR OF TREASURES FROM THE RUSKIN COLLECTION